Krupasindhu - Monthly Magzine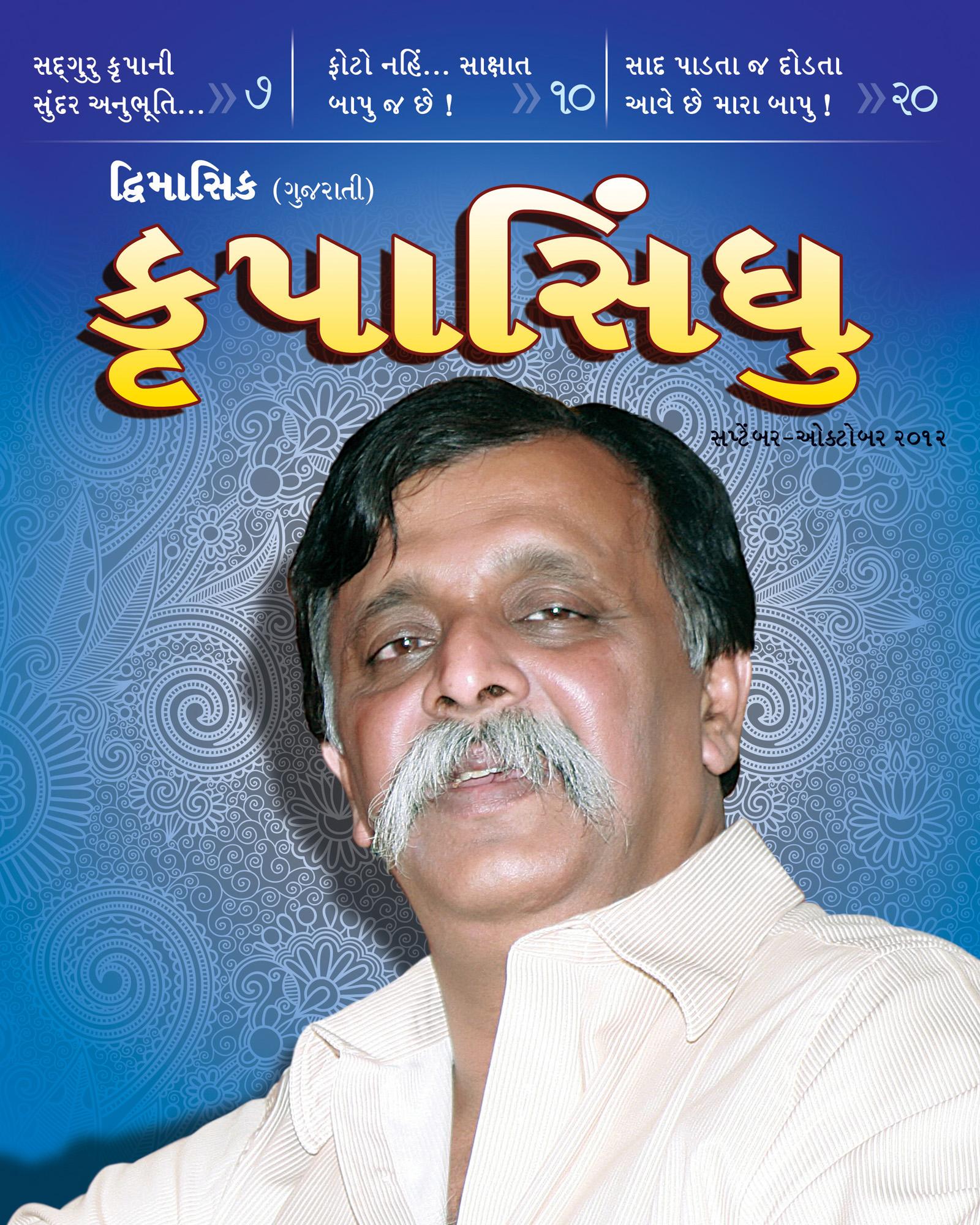 Name/Title:
Krupasindhu, A monthly magzine
Publishers:
Shree Dattaguru Publications
Periodicity:
1 month
Languages:
Marathi, Hindi, English, Gujarati
Cost Per Magzine:
Rs. 20.00,
Annual Subscription for Marathi:
Rs.200.00,

for Gujarati:
RS.120,
for Hindi:
Rs.80,
for English:
Rs.80
Contents:
1. Personal Experiences of Param poojya Bapu
2. Article on General knowledge
3. Spiritual Articles
In an age where the market is virtually flooded with a plethora of magazines competing with each other for grabbing the attention of the reader; primarily those that offer contents which are pure gossip and / or which appeal to the baser instincts of the readers, there comes along a magazine that stands apart from the rest, both as to its genre as well as its content; a magazine that is committed to providing the reader with content that is meaningful and capable of having a positive impact on its readers.
About Krupasindhu
Krupasindhu, a quadrilingual magazine, which is published in Marathi every month, English and Hindi are being published once in every quarter and Gujarati is published once after every two months, derives its inspiration primarily from the teachings and preachings of Sadguru Shree Aniruddha Bapu (Dr. Aniruddha Dhairyadhar Joshi – MD Medicine), who has steadily and surely emerged on the horizon as a spiritual leader with a difference; to quote the editorial in the February 2004 issue of the magazine Life Positive"....he is harnessing the opportunity to lead people on the righteous path and guiding a mission that seamlessly combines social reform, charitable activities, interfaith thinking and a scientific attitude." It is hardly surprising, then, that an overwhelming majority of His ever increasing legion of followers are educated people between the age group of 18 to 45 that span the cross section of society, transcending all barriers of language, caste and religion. With a loyal subscriber base of 11,000, which is increasing day the day, not to mention its ever increasing 'off-the-shelf' readership, Krupasindhu, which was launched in the year 2004 is clearly here to stay.
For one, who is a firm believer and advocate of universality of religion, Sadguru Shree Aniruddha Bapu believes that there is only one Supreme Being - God Almighty. He firmly believes that in today's troubled times, it is only Bhakti and Seva that can make a person's existence worthwhile; and for this, He says, there is no need to renounce the worldly pleasures and lead the life of an ascetic, so long as our actions do not transgress the three basic principles of the Almighty, i.e Satya (Truth), Prem (Love) and Anand (Bliss).
So, what is it that Krupasindhu has to offer that others do not? Here's what – THE UNIQUENESS OF ITS CONTENT. We all know that India has been the cradle of spiritualism. It was undoubtedly India's (then Bharat) spiritual strength that was responsible for its economic prosperity, which truly made it a land of milk and honey and the envy of other nations. The spiritual strength of India can be singularly attributed to the galaxy of saints who emerged from time to time, carrying the baton forward from their predecessors and spreading the message of Bhakti and Seva. Over the years Krupasindhu has covered a vast array of subjects ranging from chronicling the lives of various saints and their teachings, of such great warrior kings such as Guru Gobind Singhji Maharaj, Maharana Pratap, Chhatrapati Shivaji Maharaj, Rani of Jhansi and Chittoor Chennamma, to name a few, whose courage and indomitable spirit was built on the solid foundation of devotion to God Almighty, to spreading Param Poojya Bapu's message across the length and breadth of this country, which is, in fact, one of its main focus areas. The present focus of Krupasindhu is on elucidation of Abhangas written by Shri. Aaadyapipada and others, experiences of Bapu bhaktas - of how they experienced His divine grace, and how it transformed their lives, articles on P.P. Bapu, His work, His principles, as also articles on the various Bhakti-Seva activities undertaken through it various charitable institutions.

Today, we are all at the crossroads, be it the individual, the society, the nation or the world at large. People, who are genuinely interested in living a meaningful life, find themselves directionless and confused. They are desperately seeking an anchor to which they can hold to and find a sense of purpose to their lives. Krupasindhu, in its own small yet significant way, has been relentlessly endeavoring to make a difference in the lives of its readers and the society at large, by propagating the message and teachings of Param Poojya Bapu.   
For further information, please feel free to send email to the editor on the following address:
ajitsinhpadhye@gmail.com