HISTORY OF BAL VIDYA: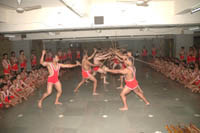 WHY IT IS NECESSARY?: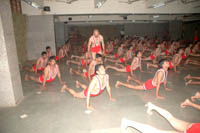 A common man thinks that words like 'war' and 'conflict' are the exclusive responsibility of the armed forces. Our Sadguru, Shri Aniruddha Bapu says, "War has now reached our household. To face and win this war, it is essential that every individual should be competent mentally, physically as well as intellectually. We think that our responsibility gets over once we donate some money in the 'War Relief fund'. But our heart does not remorse over the death of those brave soldiers who sacrifice their lives while fighting for our nation round the clock. There has to be intense regret getting created on their supreme sacrifice!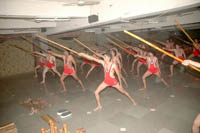 It is not necessary that the war should be won only by strength. The mind and intellect also has to be strong along with the body. This is because the game of war is not only played at physical level but also played at mental and intellectual levels. Sadguru Shri Aniruddha says, "The crux of the ancient knowledge of combat is – Defense is defeat, Attack is the best defense."
INTRODUCTION :
Hence, it is essential to learn and acquire appropriate training of this ancient knowledge of combat at right place. Sadguru Shri Aniruddha Bapu himself is an expert in the ancient Indian knowledge of combat. Shri Aniruddha has thus resolved to revive the Bal Vidya (Knowledge of strength). Shri Aniruddha Bapu has trained Shri Ravindrasinh Manjrekar, the first mentor-in-chief or Acharya of the present era, at The Research Center on Ancient Knowledge, Juinagar, Navi Mumbai, India). This research center is built in the memory of Shri Hemadpant.
COURSES IN CURRICULUM:
The training includes Mudgal Vidya, Vajra Mushthi, Surya Bhedan and various types of Yashwanti Malla Vidya. The training also includes Laathi, Kaathi, Fari-Gadge, Dorkhand and Dandpatta.
TRAINING
Now-a-days, all these ancient arts are vanishing very fast from India. Sadguru Shri Aniruddha strongly feels that the new generation should get good access to this gold mine of knowledge and skills. At present, Acharya is teaching aspirants in Bal Vidya through Shri Hemadpant Prachya Vidya Prashala which is established under the guidance of Sadguru Shri Aniruddha.
This training is given to men as well as women. Till date approximately, 400 men and 1300 womenhave completed their training in Bal Vidya and have become fully capable of performing and delivering on their household, social and national responsibilities.