BRIEF: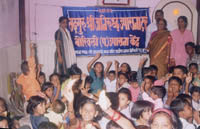 IMPLEMENTATION:
During this seva volunteers from SAUF not only teach these children but also make them recite and learn holy religious hymns of Ram Raksha, Hanuman Challisa, etc. Apart from helping them with their academic queries the volunteers also help them in solving their various other problems by providing bandages, helping them in taking up jobs, etc. Festive snacks are also distributed to these children during Diwali by SAUF. SAUF specially organizes an annual Medical Camp for them. 2 – 3 volunteers of SAUF are present with them everyday from 7:00 pm to 9:00 pm (except Thursdays, Saturdays and Sundays). The good behavior and practices, these children learn from the volunteers finally also get inculcated by their parents. This has resulted in tremendous reduction of addictions.
DETAILS:
SAUF has also been offering similar seva at Children Home at Mankhurd, Chembur from the Year 2001. 40 – 50 volunteers of SAUF organize cleanliness drives here on every Sunday. These volunteers undertake various activities during these drives which include giving bath to these children, applying shampoo to their hair, cutting their nails,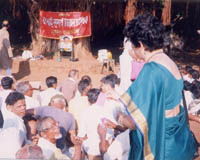 washing and drying their clothes, etc. These volunteers not only care for the personal health and hygiene of these children, but also care for the cleanliness and hygiene of the premises where these children live and they actual clean their rooms, bathrooms, toilets, etc. Even the stained walls of these premises are cleaned by these volunteers. Here also, SAUF distributes festive snacks during Diwali to these children. An annual Medical Camp is also held by SAUF here. During this camp these children are given clothes, medicines, toys, etc. SAUF had organized a health camp here, which was specifically held as a drive against ringworm and other skin ailments by which these children suffer.After this camp it was specifically observed that the proportion of ringworm and other skin ailments in these children had drastically reduced.
FITNESS ACTIVITIES:
SAUF has also been offering similar seva at David Sassoon Orphanage at Matunga. Every morning between 6:30 to 7:00 volunteers of SAUF teach these children various physical exercises (except Sundays) so as to maintain and enhance their physical and mental fitness and agility respectively. Doctors from SAUF check and give medicines to these children on every Wednesday. SAUF also organizes medical camps thrice a year for these children.
CELEBRATING FESTIVALS:
Every year, on the festive day of Holi, SAUF distributes Puranpolis (a traditional Indian foodstuff). Festive snacks are also distributed to them on Diwali. They are taught various religious hymns and are also given valuable guidance for their academic progress and growth. With this guidance, many of these children have cleared their matriculation exams and are pursuing for further education.
HELPING TO NEGLECTED CLASSES:
SAUF is helping in restructuring lives of various socially neglected classes by helping children of lepers, orphans and mentally challenged children. SAUF is doing a commendable job of flowering the arid and dry lives of the children with happiness which is inspiring self-confidence in these children to lead a normal and successful life.