Holi poornima, Hemadpant and Sai –Nivas are synonymous terms. (there is a very beautiful relation between Holi Utsav and Sainiwas which has its reference way back in the year 1917,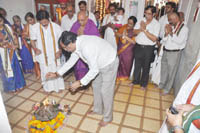 the exact story of the incident that happened at the premises is as narrated below,) In 1917, on the eve of Holi poornima, Hemadpant (writer of Shree Sai sat charita Grantha) had a vision. Sai Baba of Shirdi dressed as a sanyasi woke him up and said that HE (Baba) would come to Sai-Nivas for meals on that day.
Hemadpant was waiting eagerly because he knew Baba would keep HIS word even if it was a vision. It was noon time when two Muslim youth came with a package wrapped in newspaper.
Hemadpant opened the package and was overwhelmed by Baba's sheer love. Tears ran unchecked as he held a beautiful image (Tasbeer) of Baba. From this day onwards Holi Poornima is celeberated at Sai –Nivas with sheer love and joy. Puran Poli(an Indian sweet specially prepared on this day ) was offered to Baba as Naivedya (offering). The festivities continued through generations in Hemadpant's family.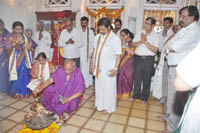 Since about two decades Parayan (uninterrurted reading) (reading a holy book in a particular number of days) of Shree Sai Sat Charitra two days prior to Holi Poornima marked the beginning of celebrations. On the first day chapter 1 to 26 are read by shradhavans continued on the second day upto chapter 52. On Holi pournima the day begins with Kaakad Aarti (Aarti performed in the early morning) then reading of the final chapter (i.e. chapter no. 53) of Sai sat charita signifying the end of parayan.
Param Poojya Sadguru Bapu attended the first Holika Poojan in 1996 and has been coming ever since to Sai Nivas. Bapu has initiated a number of events on this day at Sai Nivas
After the parayan a dindi is taken around the house by chanting the gajar
"dixit,shama,hemad,bayjabai,nana,ganu,meghshyaam,
hyanchi vaat pusta pusta millel amha sai ram"
Change Hosting and poojan of Dhwaj (flag with om sai ram written on it).
Akhand Deep was lit on this day.
The holika poojan begins only after the arrival of P.P. Bapu. "Om krupasindhu shree sainathaya namah" jap is chanted after the holika is lit. 5 types of grains are offered to holika mata. Aarti is performed. Akhand jap of "om sai shivaya, om sai ramaya, om sai krishnaya namah'' is started by P.P. Bapu in the presence of immediate family members. Every shraddhavan takes part in the chanting thereafter.
 Sadguru Bapu blesses every shraddhavan from very close quarters on this day.
One of the most significant aspect is every one can light a Sudeep near the Tulsi Vrindavan. P.P.Bapu has said that this is Meena Vahini's sacred place where she will be there forever as a bond between every shraddhavan and Bapu.
Every shraddhavan can also offer puran poli when he comes for darshan.
It is very important for everyone to come and pay their obeisance on this day because as P.P. Bapu has said that this is the first image of Sai Baba during His lifetime and we are the fortunate few who can bow and offer prayers at Sai nivas.