Shree Kshetra Akkalkot Rasayatra Day 1-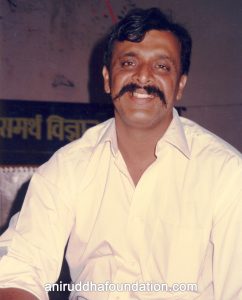 Sadguru Aniruddha Bapu announced Akkalkot Rasyatra in the year 1997, after Shirdi Rasayatra. It was for four-days. This Rasayatra too was organized by Shree Sai Samartha Vidnyan Prabodhini. The Rasayatra started on Thursday, 11th September, 1997. All the devotees along with Bapu reached Solapur by Siddheshwar Express and from there the journey to Akkalkot started in a state transport bus. Everything was well-managed.
Shree Kshetra Akkalkot Rasayatra Day 2 –
Next day at 4.00 pm, the Amrut Manthan Upasana started in an auditorium that was just  a stone throw distance from Swami Samadhi temple. The mantra "Om Krupasindhu Shree Sainathaya Namah", was chanted twelve times. Like the previous year, all the people were given clay and a Banana leaf for making Swami Samartha's Padukas. Archandravya too was offered on Sai Samarth Padukas. Shri Swami Samarth Gayatri Mantra was chanted 108 times during the making of Padukas.
Bapu too chanted the mantra with all. At the same time, Abhishek on the Padukas made of Butter was being offered. Later all the shraddhavans offered their padukas on the Padukas made of Butter. All the Padukas were immersed the next day. Shiv Gayatri Mantra was chanted 108 times by all shraddhavans along with Sadguru Bapu. Finally aarti was performed followed by Gajar.
Shree Kshetra Akkalkot Rasayatra Day 3 –
The day started with all setting out for the darshan All were information about all the places in Akkalkot. The sequence of darshan was set by Bapu. Before lunch, Mahabhog was offered at the Vatvruksh temple. All visited Swami's original Samadhi. This Samadhi is at Cholappa's residence. Swami used to drink cow milk. Samadhi of the same cow can be seen here. After taking a glimpse of Swami's Samadhi, all went to Joshibua Math. Here, all took darshan of the impression of Swami's lotus feet that had appeared on a wooden seat. After that, all were taken to the Vatvruksh (Banyan tree) temple where Swami had done his Tapasadhana followed by visit to Balappa Math. Swami Samartha had handed over his Padukas, Dand, Rudrakshmala to Balappa at the time of his passing away, are kept in this Math. At night, the Satsang started in the presence of Bapu.
 Shri Kshetra Akkalkot Rasayatra Day 4th –
The fourth day started with Shree Dattaguru's upasana. Then Shree Dattaguru Mantra was chanted 108 times. Then the prasad of guavas was distributed and exactly at 5.00 pm. the return journey started.