NEED: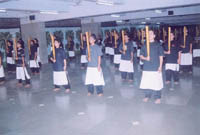 CONCEPT AND VISION: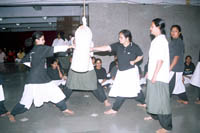 The Ahilya Sangh will equip the woman to protect herself. She will call out to the Lord but to bless her and so that she is able to express her strength appropriately and if need be, teach a lesson to those who deserve it.
ACTIVITY:
Under expert guidance, women are trained in martial arts. Classes for this kind of training and practice are organized on a regular basis. As of date, the 'bala vidya' (martial arts) has been taught to women. The Ahilya Sangh extends help to women whose husbands are addicts – of alcohol for instance. This will of course is conducted in co-ordination with the De-Addiction Project conducted by the Foundation.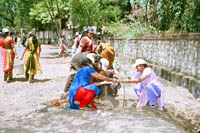 Till Date 16 Batches of Ahilya Sangh have been conducted and approximately 1068 women have been trained under this programme.