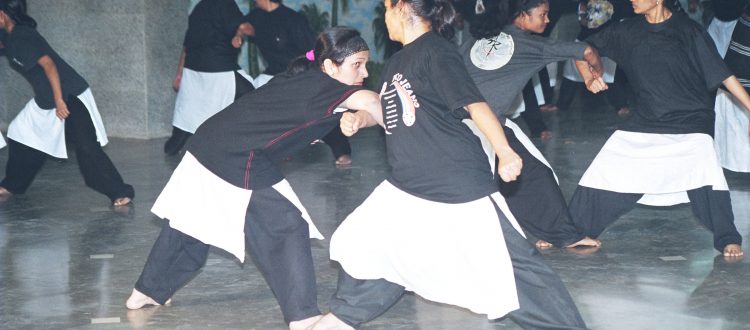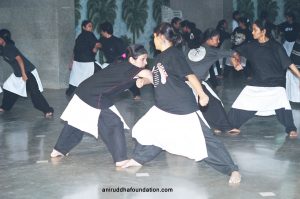 Sadguru Shree Aniruddha introduced the 'Ahilya Sangha project' as a part of his 'Thirteen Point Welfare Programme' so that no women should suffer what Ahilya had to. Ahilya, whose mention is found in Ramayana was cursed to become immobilised like a stone. The Ahilya Sangh is not a movement to liberate women, but an effort to help a woman to realise her immense, dormant potential which she could use for the progress of her family, the society she lives in and the nation at large.
In the newspapers, we often read about the atrocities faced by women in broad daylight. The horrific incident of Nirbhaya that occurred in the capital, Delhi still leaves all our senses numb. Such incidents caution us about the reality that a woman should never depend on the hope of receiving help from her close friends, relatives or society, in any dire situation and instead should put up a fight all alone come what may. Therefore, to catapult them into a strong 'Veera', they are taught Balvidya (ancient Indian martial arts) for self-defence, through the medium of 'Ahilya Sangh'.
The training classes of Prachyavidya or Balvidya (Ancient Indian Martial Arts) conducted through the Ahilya Sangha, are exclusively meant for women. The training makes women competent to not only defend themselves, but also to lend their helping hand to other women stuck in trouble. This is precisely the motto behind organising these training classes.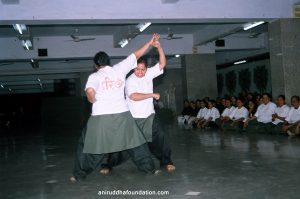 'Attack is Defence; Defence is Defeat', is the basic principle on which Balvidya training works. Ahilya Sangh training includes preliminary 'Surya Namaskars', different types of exercises, forms of hand and wrist movements – Hastalaghav, Hastakaushalya, Mushtilaghav, Mudgalvidhya, etc. This training is imparted free of cost. Notably, 21 batches in total featuring around 1500 women have completed their training so far.
Ahilya Sangh also organises workshops to train women in Suryanamaskar. Till now, 38 Suryanamaskar workshops have been held in Maharashtra that saw the participation of around 2000 women.
The Ahilya Sangh provides backing to destitute and helpless women facing atrocities or in difficulty, as well as it lends support to women suffering the scourge of their addicted husbands. Thus, Ahilya Sangh also contributes to de-addiction.
Moreover, Tree Plantation drives are also conducted through Ahilya Sangha. So far, about 1500 trees have been planted under this drive. By making women competent, Ahilya Sangh is paving their path towards a beautiful life and also is contributing in transforming our Vasundhara, i.e. the mother earth into a beautiful place to live in by protecting the Mother Nature at the same time.
मराठी
हिंदी