NEED: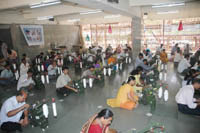 CONCEPT AND VISION:
The Charkha project is not just a solution to a problem but also a step towards self-sufficiency that intends to crack the vicious circle poverty and illiteracy. Our bond with the Charkha or the spinning wheel is old and sentimental – it is gift from Mahatma Gandhi's to all of us. We have experienced its strength. The charkha project revives this bond and gives us this wonderful tool that provides clothing for the needy.
ACTIVITY:
collection of hanks prepared by bhaktas and uniforms made from them
Primarily the volunteers of the Foundation train the devotees to spin the Amber Charkha.
The Foundation arranges to make the fabric from the yarn which is thus produced.Uniforms made from this fabric are distributed free of cost to the needy students.
As a result the schools in the areas where this distribution has taken place have seen greater enrollment of students, higher daily attendance, big reductions in their school drop-out rate, increase in literacy and therefore reduction of illiteracy, improved standard of living and overall development and progress.
So far the distribution happens at Kolhapur during the Medical and Health Services Camp held every year in Pendakhale, about 50 km from Kolhapur city.
This distribution is an on-going activity which happens throughout the calendar year.
WHY THE CHARKHA WHEN THERE ARE SOPHISTICATED ALTERNATIVES ?
Sadguru Shree Aniruddha Bapu says, "Let all the innumerable destitute children, who are indeed mine, get clothing to cover themselves."
Sadguru Shree Aniruddha Bapu wants that the devotees to get involved in this activity with all their energies and efforts.
By being connected this fabric thus produced will weave together the rural and the urban cultures and population. It is not just 'buying' cloth, handing it out and walking away.
Charkha means self-sufficiency achieved from minimal resources.
The fabric resulting from these charkhas is both durable and comfortable to wear.
The devotees spin the charkha reciting the mantra of 'Aniruddha Mahavakya' thus also imparting and increasing their quotient of devotion.