Charkha/Spinning wheel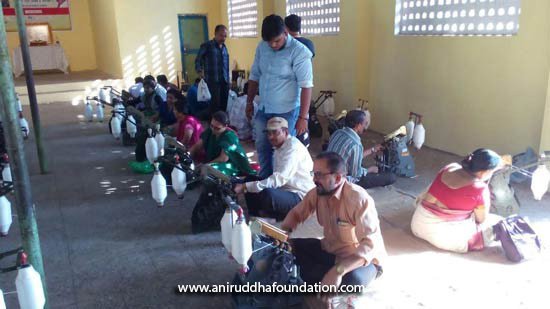 Food-Clothing-Shelter are the basic necessities of human life. But they have taken the form of problems at many places in India; hence once again the Charka is all set to rescue the unfortunate beings from the evils of poverty.
The organization holds surveys to identify the needs of people before implementing schemes. During one such survey, it was noticed that the attendance of children at schools in remote areas was not enough with embarrassment faced due to lack of proper uniforms.  The class of the people that faces the problems of food-clothing-shelter is forced to ignore education. They have developed a defeated mindset due to a history of illiteracy in their generations.
Hence the 'Charkha Project' was introduced by Dr. Aniruddha D. Joshi under the '13 Points Programme' which was aimed to provide clothing to the needy. The transformation of the physical work done while running the spinning wheel turns in to devotional service. The clothes thus produced from this devotional service is distributed for free to the laborious, weaker sections that need these garments.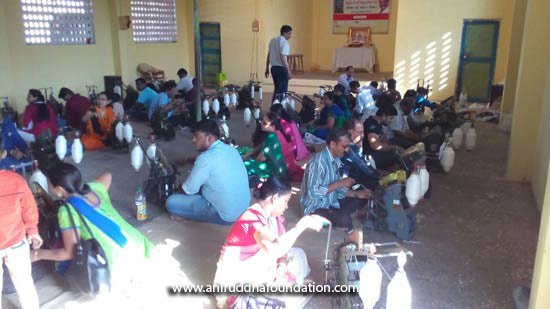 When shraddhavans work on the spinning wheel they chant name of the Almighty and thus the service becomes an oblation to God.
Shree Aniruddha Upasana Foundation has also formed a group of volunteers trained to maintain the Charkhas who visit the homes of Shraddhavans for the same. There are more than three hundred and fifty volunteers in Mumbai, Thane, Pune, Nashik, Kolhapur, Aurangabad, Dhule, Jalgaon and other places. Many have experienced that spinning Charkha for some time calms their minds.
Volunteers feel whenever they run the Charkhas and chant the name of the Almighty it frees them gradually from the cruel and vicious bondages and cycles in life.
45 to 50 thousand meters of cloth is made annually from the cotton spun on the Charkhas. Different sizes of uniforms are made, classified and then sent to schools for free distribution. All the costs of this entire activity are borne by the Foundation.
A medical and healthcare camp is held in the economically backward areas of Kolhapur since the year 2004 by the Foundation and its associated sister organizations. It is here that these uniforms are distributed to thousands of the needy students for free, thanks to the thousands of shraddhavans who voluntarily take up the task for spinning Charkhas. The Charkha had created history during the fight for Indian independence. The whole of India was united with the yarn of this Charkha. Now, we have one more opportunity to create India's new magnificent history through the Charkha Project, why should we miss it?
https://t.co/fTrmIv3tac has organized a mega #Charkha (#SpinningWheel) Camp from 23 Apr' 18 to 29 Apr'18 at Bandra, #Mumbai. Volunteers gather at the camp and spin the charkha, the cloth is then used to make school uniforms which are distributed to the kids from rural areas. pic.twitter.com/GO5e4CQRYl

— Aniruddha Compassion (@CompassionACSR) April 24, 2018