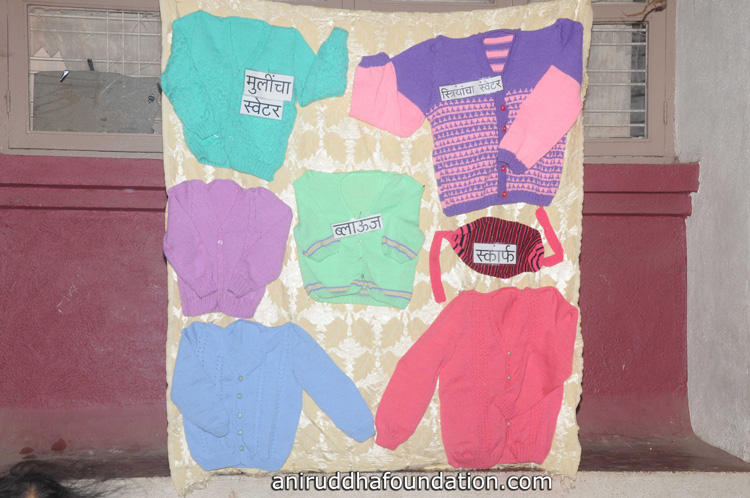 The lack of clothes to wear in the winter season is the real peril for the labour class community in India. During such times, in order to protect themselves from the cold, even the most basic sweaters are not available to them and purchasing the same is out of their capacity.  We often come across the news of the death of people in the chilling winters which largely include children and senior citizens. Thus, such people are provided with sweaters knit under the project of Vaatsalyachi Ubb (warmth of care, love).
This project is run by the 'Ahilya Sangh', under the guidance of Sadguru Shree Aniruddha. Shraddhavans perform the Seva(devotional service) of knitting with wool. With the help of two needles, they knit sweaters through the project.  Sweaters are knit for newborn babies, children below ten years of age and senior citizens under the project. Apart from sweaters, caps, socks, mufflers and monkey caps are woven too. So far, Shree Aniruddha Upasana Trust and associated organisations have distributed approximately 22,000 sweaters.
The women Shraddhavans, who wish to participate in the Seva for knitting sweaters, are trained for it through Ahilya Sangha free of cost. The training is about 6 months long and its sessions are conducted twice a week.
Usually, most housewives are free from their familial responsibilities by the age of 50 and thus, have a lot of free time on their hands. They can utilise the time to knit sweaters and many women Shraddhavans utilise this opportunity well. These sweaters which are knit with love and without any expectations, thus, not only provide the warmth of the wool, but also the warmth of a mother's love. Moreover, several women Shraddhavans chant the name of God and their Sadguru during the Seva, thus, the Seva is accompanied by Bhakti (devotion). The warmth generated through such selfless Seva, helps an individual to firmly sustain through the storms of life. 
मराठी
हिंदी