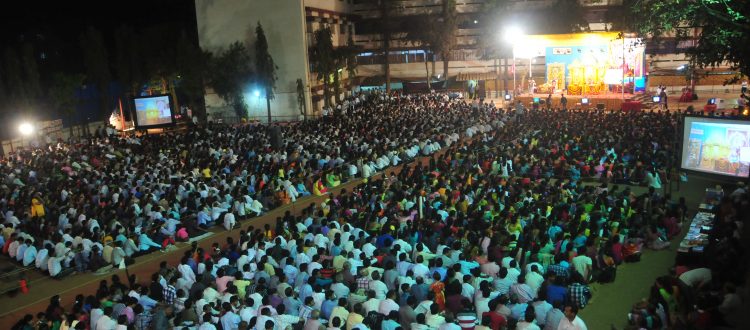 Sanghik Upasana (Collective Worship)
"When we pray collectively, the positive and divine vibrations produced by all the prayers come together and strengthens our prayers making it more powerful and effective. The radiance and vibrations generated during the collective prayers are beneficial to our country and hence also to ourselves. Collective prayers do not result in the division of our punya (merits); instead, they increase, in geometrical progression," Sadguru Shree Aniruddha elucidated the significance of collective prayers (Sanghik Upasana) in his discourse.
Benefits of Sanghik Upasana:-
Sanghik Upasana enhances positive energy.

Even though India has seen many great personalities its society has remained mediocre due to lack of unity. This feeling of belongingness or unity can be inculcated only through collective prayers.

The ego that may arise out of doing social work generally doesn't occur when it is done by people coming together and is based on devotion.

Not only do collective prayers confer mental peace, but they also free us from the worldly problems, empower our mind, making us travellers on the path of God.

Collective prayers develop and imbibe the sentiment of unity and equality among everyone.

Develops mental strength, boosts confidence and help live fearlessly. Thus, each person and consequently the community and the country develop spiritually and emotionally.
Sanghik Upasana at Shree Harigurugram and Upasana Centres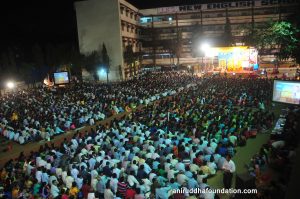 (Collective praying) Sanghik Upasana is conducted at Shree Harigurugram (News English School, Bandra) on every Thursday. All present have the privilege to listen to the discourses of Sadguru Shree Aniruddha or the narrations of personal experiences by Shraddhavans. Later, it is followed by the Sadguru Darshan; wherein, everyone seeks his blessings and grace.
Sadguru Shree Aniruddha Upasana Centres are located in Mumbai as well as the suburbs, in Maharashtra and even outside. Prayogik centres, as well as Bahubhashik centres, are also located at a few places.
In these centres, Sanghik Upasana is conducted every Saturday. 
Saanghik Upasana in families and household
Relatives, friends, etc. who have gathered together can perform group prayers. The Sadguru Paduka Poojan and Sacchidanandotsav are the best occasions made available to Shraddhavans for praying collectively. Sadguru Bapu has also given us various Stotras to be chanted in the month of Shravan, Margashirsha and Gurucharan maas. Also, during the auspicious occasions like Chaitra Navratri and Ashwin Navratri, Shraddhavans can gather and pray collectively- conduct recitals of stotra, jap and perform Pooja (worship)
Collective chanting is performed on various events, and occasions celebrated and organised by Shree Aniruddha Upasana Foundation. The Ghorkashtodharan Stotra recital is held in the month of Shravan. Likewise, the Hanuman Chalisa recital is also conducted for a week at Shree Gurukshetram for all the Shraddhavans. Moreover, to express gratitude (Ambadnyata) towards their Sadguru, a continual recital for 108 times of Shree Aniruddha Chalisa is also organised at Shree Harigurugram.
Online Presence – Aniruddha.tv (www.aniruddha.tv)
Aniruddha TV (www.aniruddha.tv) began broadcasting from the Ganesh Festival of the year 2014. This website streams the English Upasana Live every Sunday from 10.30 AM to 11.30 AM for all the Shraddhavans across the globe.
Sadguru Aniruddha Bapu says, "In Kaliyuga, collective chanting of stotras like Ramraksha, Hanuman Chalisa, Panchamukhhanumat Kavach, Ghorkashtodharan Stotra is Shraddhavan's yajna (offering), daan (donation/charity) and tapasya (penance) – Yadnen, danen,tapasa! 
Sadguru Aniruddha Bapu says, "Collective chanting of stotras like Ramraksha, Hanuman Chalisa, Panchamukhhanumat Kavach, Ghorkashtodharan Stotra is Shraddhavan's yajna (offering), daan (donation/charity) and tapasya (penance) – Yadnen, danen,tapasa! These collective prayers are the means to destroy your bad fate, and it also fill your life with sheer joy and happiness and your happiness will definitely make me happy!"