Activities of Upasana Centres
Collective Prayers were observed in India till the advent of the 13th century. However, this practice was later unheeded and forgotten by the masses. Shree Aniruddha Upasana Foundation's upasana centres were established with the intent of rejuvenating this forgotten ancient Indian concept of collective prayers (Sanghik Upasana).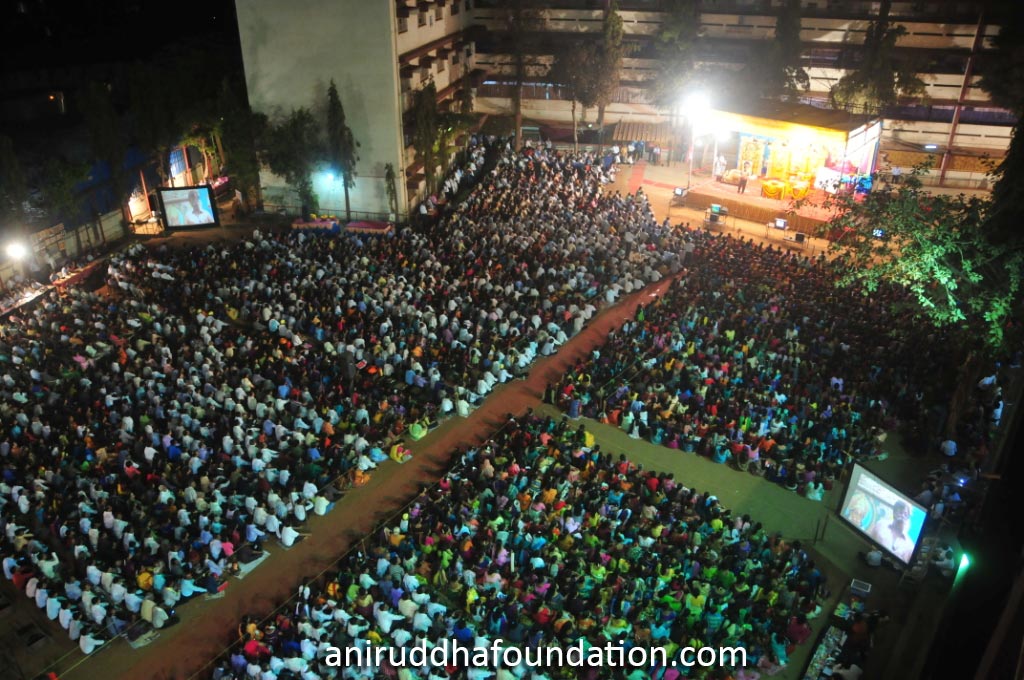 Today these upasana centres have spread across the entire globe.  These centres have been responsible for forming an association, a congregation of the like-minded, pious people. These are play a role in building and maintaining communal harmony within the Indian citizens who represent many religions and speak varied languages. These centres are the workshops where the theory that Sadguru Aniruddha Bapu preaches, is realised, practically implemented and practiced.
The first Collective Upasana at Sadguru Shree Aniruddha Upasana Centre, was performed on 7th May, 1997 on the auspicious day of Akshay Tritiya.
As of 2017, Shree Aniruddha Upasana is conducted in 655 upasana centres across the globe, generally on Saturdays. At some of these centres, the Upasana is conducted in English, Hindi, Kannada and Gujarati languages too.
Every Saturday, devotees are provided updates about the organisation. Small pitruvachan clips that give out the key points of Sadguru Shree Aniruddha Bapu's Pitruvachan (discourse) are played for 15 minutes on the first Saturday of every month. On the Second Saturday of every month, an entire  pitruvachan is shown. Once in two months, the experiences of Sadguru Aniruddha Bapu had by the shraddhavans are shown.
Shraddhavan devotees also get the opportunity to know more about various devotional services and activities that are carried out by the different upasana centres.
A small section of the 'Dainik Pratyaksha' newspaper is devoted to writing the provided specific mantra on a daily basis. Shraddhavans also get the opportunity to offer this mantra on Sadguru Aniruddha Bapu's Paduka at the upasana centres.
Apart from devotional activities, devotional services are carried out as well. Camps such as Charkha Camps, Blood Donation Camps, Clothes distribution, Medical and quilt-making camps are also conducted at the centre level. Many projects from the 13 Points Programme given by Sadguru Aniruddha Bapu have been implemented through these upasana centres with proper planning. These include:
Vermiculture
Govidyapitham Shramdan Seva
Shraddhavans from all the Upasana Centres participate in these various devotional services. The advent of these upasana centres is contributing immensely in inculcating devotional values in the society.