NEED :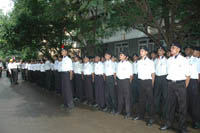 CONCEPT AND VISION :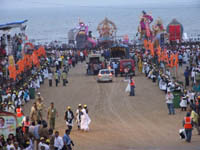 The Aniruddha's Academy of Disaster Management prepares and equips the individual to manage disasters, save lives and curb loss. Disaster does not strike in isolation – A house on fire affects the neighboring house. Being able to save one's own life along with that of others' is a skill that the trained volunteers of the Aniruddha's Academy of Disaster Management learn but it is also a prayer that they offer… a prayer that saves lives of those they do not know, lives who belong to fellow human beings Recognizing the imperative need of the hour, the Aniruddha's Academy of Disaster Management began work with the inspiration and guidance of Sadguru Shree Aniruddha Bapu way back in 2001. No. of volunteers trained till date – more than 55,000
ACTIVITY :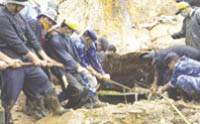 Regular disaster management practice sessionsencompassing various subject viz., fire fighting, first-aid, rescue, usage of ropes, usage of bandages, etc are conducted at local Upasana centres by the DMVs of AADM.
Parade sessions are conducted weekly on the local parade Centres. Parade as a project inculcates valour, daring, physical and mental toughness and readiness to face any situation.
Corporate and Basic Training Courses in Disaster Management are conducted by AADM at various corporate houses, educational institutions, upasana centres, forces' institutions, etc. On the completion of these courses the participants are awarded Certificates in Disaster Management. AADM voluntarily offers various sevas at external events like Siddhi Vinayak Seva, Mahalaxmi Seva, Mount Mary, Mandhradevi, Jyotiba Seva, etc.
The trained volunteers assist relevant civic authorities or the police force in crowd management and control exercises. Their work has been largely appreciated endorsing their promptness, their discipline and above all their commitment to the cause.
The Academy has published 'The Textbook of Disaster Management' in order to create awareness among the people and to impress upon them the importance and value of learning disaster management skills.
The Academy also conducts and trains volunteers in vermiculture projects which are implemented at personal and community level which is a solid waste management program.