Every year Shri Aniruddha Upasana Foundation, Bhartiya Bhasha Sangam & Shri Aniruddha House of Friends jointly organizes Shree Maghi Ganeshotsav festival.
Shree Aniruddha Upasana Foundation has been celebrating this Utsav since the year 2009. The name 'Guru' has names Ganapati, Vanhi (Agni) & Vishnu embedded in it in collective form and hence collective Upasana of Shree Asthavinayak is performed along with Brahmnaspati only after "Gurusthanam" was established and empowered. Hence Shri Aniruddha Upasana Foundation began organizing and celebrating Shri Maghi Ganeshotsav only after the completion of one year of establishment and empowerment of Shree Gurukshetram was done (Shree Aniruddha Gurukshetram was established in year 2007).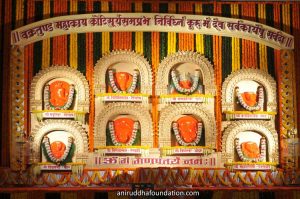 Shree Maghi Ganesh Utsav is celebrated on the day of birth of Lord Ganesh. It was on this day that Goddess Parvati created Lord Ganesh who is the Ghanpran of the Universe. This day falls every year on the Chaturthi or the fourth day of the month of Magh (of Hindu calendar). The story of birth of Lord Ganesh is explicitly mentioned in Granth (holy book), 'Matruvatsalyavindanam' which is authored by Param Poojya Sadguru Aniruddha Bapu.
Rigved states the description of 'Brahmansapati' as the one with Modak in the front right hand, and tooth in the left. Two rear hands holding weapons axe (Parshu) and noose (Paash).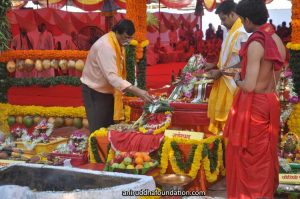 We can avail the benefit of taking the darshan of Lord Brahmnaspati at Shree Maghi Ganapati Utsav. During the festival consecration (Abhishek) is performed on the idol of Lord Brahmnaspati along with chanting of Brahmnaspati Sukta.
Brahmansapati Sukta is one of the purest hymns (Suktas) of the Rigved. The chanting of this Sukt, does good, of not only an individual but also of the society and the nation as a whole. Moreover its chanting also makes every citizen competent, potent and fearless.
All the Shraddhavaans who innocently worship Lord Brahmasapati with complete faith are graced by Him.
Poojan of Shree Ashthavinayak is also done during Maghi Ganapati Utsav.
Granthraj Shrimad Purushartha tells us the importance (Mahatmya) of Ashthavinayak. Lord Parmatma or Sadguru converts the Lord Parmeshwar's Ashtabeej Aishwarye into His own Nav Ankur Aishwarye, which He then releases in the lives of Shraddhavans for their emancipation.
The mechanism which Lord Parmatma operationalizes in our body at all its three dimensions (Trividh Deha) so that we get the grace of Lord Parmeshwar, is infact Lord Ganpati. There are eight important centres of this mechanism in our bodies which represent each of the Ashtavinayaks and hence these Ashtavinayaks are related with the eight senses (Ashtabhav) in devotees that get activated during worship. This festival helps the devotees to keep the eight centres of our body operational in the right way and also helps in receiving Nav Ankur Aishvarye (9 forms of wealth seeds). Hence Shri Aniruddha, organizes this Maghi Ganeshotsav out of His sheer unconditional love towards the Shraddhavans.
 The idols of Ashthavinayaks are worshipped along with Lord Brahamnaspati during the Maghi Ganapati Utsav. An ablution / consecration (abhishek) is performed with Ganapati Atharvasheersha. Through this extremely holy festival Sadguru Shri Aniruddha offers Shraddhavaans an unprecedented opportunity of developing their lives.
On the morning of the day Maghi Ganesh Chaturthi, 'Sadhya Ganesh Yaag' is performed. Specialist priests are called execute and conduct this yaag. Thereafter from 4 pm in the evening till 11 pm at night recitations of Ganapati Atharvashirsh are performed. During this period the Ganpati idol worshipped at Sadguru Aniruddha's residence is brought to the venue of the festival and ablution of this idol is done with the waters of eight different rivers.
As instructed by Sadguru Shri Aniruddha, Shraddhavaans chant the following mantra for 72 times during the Ganpati festival as well as on Sankashti Chaturthi falling on Tuesdays.
"OM SHRI BHRAMNASPATAYE PARVATI PUTRAAY MANGAL MURTAYE GANAPATAYE
VISHWA GHANA PRANAY SARVA VIGHNA NIVARKAY NAMO NAMAHA"
To all Shraddhavaans- "To receive the Nav Ankur Aishvarye (9 forms of wealth seeds) of the Lord Parmatma and to keep the eight Centres (Ashthavinayak) of body operational in right manner one must take the darshan of Shree Maghi Ganapati in form of Shree Brahmanaspati.