"Eco Friendly" Ganesh Idols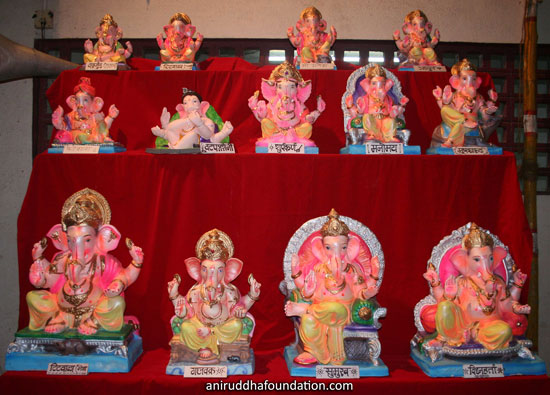 We bring Ganpati Bappa with hearty enthusiasm at our homes and offices and societies during Ganeshotsav. We please and praise Ganpati by offering Prasad, Naivedya and celebrate Mangalagaur, Bhajan, Pooja. But after immersing Bappa's idols in various water bodies, they do not completely dissolve in the water.
Hence, next day a large number of volunteers of Shree Aniruddha Upasana Foundation and its affiliates participate in the re-immersion of the idols, those remaining ashore on all chowpaties. Moreover, the Foundation also makes "Eco-friendly" Ganesha idols in order to avoid water pollution due to the widely used chemical colors and Plaster of Paris used in making of the Ganesh idols.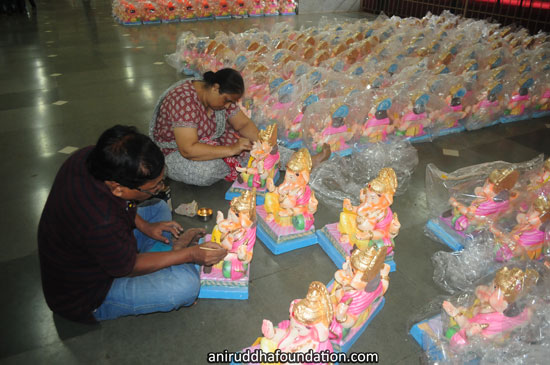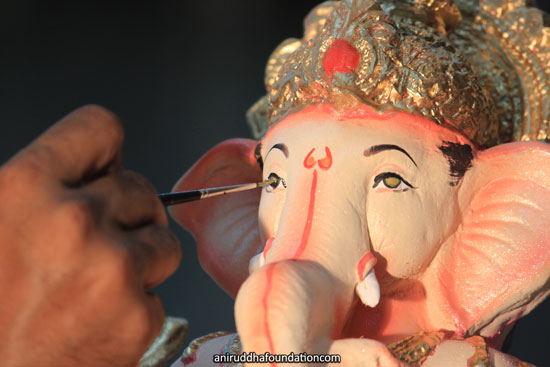 Eco-Friendly Ganapati is an environment-friendly initiative in which beautiful idols of Ganpati are made from the pulp of the paper. The devotees of the Shree Aniruddha Aadesh Pathak along with Shree Aniruddha Upasana Foundation have taken up the task of making eco-friendly Ganesha idols for all.
Shradhavans rendering selfless devotional service  at various Upasana Centres make beautiful and attractive idols of Shree Ganesha.  The pulp of Ramnaam books that are written by shradhavans is used in making these idols. Natural colors that dissolve easily in water are used to paint these idols. Turmeric, Multani Mitti (clay), Geru and natural colors extracted from different vegetables that quickly dissolve in the water are used to make eco-friendly Ganesha idols. Use of Plaster of Paris, chemical colors is strictly not permitted.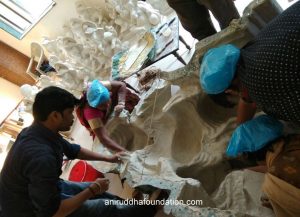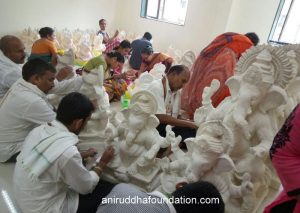 The Foundation did research to know the interests of people regarding the colors, shapes, different sizes of moulds and learned of people's opinions after which it started making these idols. As a result this initiative is receiving a large and enthusiastic response from the people. Idols are displayed on every thursday at Shri Harigurugram, New English School, Bandra from Ramnavmi and booking for the idol starts after 6 pm.
People of various age groups including men and women contribute in this selfless service.
The activity is solely aimed at spreading awareness regarding Eco-friendly Ganpati idols among the people and the arrangements for the training of making the idols is imparted by the Foundation for free.
Apart from Mumbai these idols are now also distributed in Pune, Kolhapur, Aurangabad, Satara, Nagar, Akola, Nashik and Nagpur.
If Ganesh devotees goes Eco-friendly in celebrating Ganeshotsav, the environmental degradation will definitely be contained. An important message of environmental awareness can be delivered among Ganesh devotees through eco-friendly Ganeshotsav.