On 28th & 29th April.1999 on the day of Vaishaakh Poornima, Sadguru Shree Aniruddha Bapu did the sthapana of Goddess Mahakali, Goddess Mahalakshmi, Goddess Mahasaraswati, God Shree Mangesh and Godess Shree Shantadurga. Sadguru Shree Aniruddha Bapu laid the foundation (sthapana) of the Dharmachakra at the hands of Shree Makarand Swami.
SHREE KSHETRA SADGURU NIVAS – GURUKUL, JUINAGAR
1. PANCHAPURUSHARTH DEVATA
1.MAHAKALI (KAAM) – the power of desire
– The one who puts fear in Asuras and protects HER bhaktas(devotees).
2.MAHALAKSHMI (ARTH)  – The destroyer of all obstacles.
3.MAHASARASWATI (DHARM) – The Goddess who rids us of all ailments and diseases.
4.SHREESHANTADURGA – The one who grants us moksha (salvation)
5.SHREE MANGESH – The one who bestows bhakti (devotion) on us
All these idols are made of black stone from the River Gandaki. Facing the idols are two lions made of Panchadhaatu (an alloy of five metals namely Gold, Iron, Zinc, Silver and Copper formulated in a highly scientific and transparent manner). One of these lions is Allahaad (bliss) and the other is Santosh (contentment).
2. MAHAYOGPEETH SWAROOPADHYAAS
On the right hand side in front of the Shree Shantadurga idol, there is a pillar on which the words 'Mahayogpeeth Swaroopadhyaas'have been engraved. A 'kalash' has been placed here on the inner side. This kalash holds the soils collected from 30 various Teerthkshetra (holy shrines) and their Shaktipeeths and Dharmapeeths from all over India. With the grace of these God/Goddesses devotees are fortunate to visit Shree Gurukul. Moreover a devotee who visits with faith is endowed with their blessings.
3. DHARMACHAKRA
Only a Mahayoddha (Great Warrior) can do it and the aim behind it is to destroy all evil and to re-establish virtue and goodness. With this aim Sadguru Shree Aniruddha Bapu has established the Dharmachakra.
4. SHREEVIDYAMAKARAND GOPINATHSHASHTRI PADHYE STUDY ROOM
Shree Gopinathshashtri Padhye is Sadguru Shree Aniruddha Bapu's human Guru (mentor). He was a highly regarded intellectual of his time and an authoritarian in Vedas and Shashtras, A devout Sai and Vitthal bhakta. His presence is felt even today in the study room. In this study room Devotees chant stotras, do naamsmaran, read the Granths (holy books and scriptures) and meditate.
5. DHUNI
Sadguru Shree Aniruddha Himself first lit this Dhuni on 28th September 2000 to shower His blessings and grace on all the devotees. Since then it has been burning continuously. The Udi (sacred ash) that we get from this Dhuni is because of Bapu's sankalp shakti. The use of Udi helps the bhaktas to cleanse themselves and most importantly helps to rid them off their sorrows.
6. AADYAPIPA , LATE P P SURESHCHANDRA DATTOPADHYE RAKSHA KALASH SAMADHI STHAAN.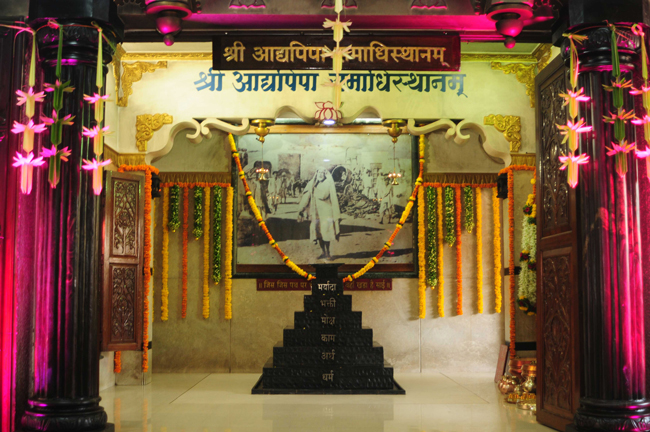 With the resolve of Param Poojya Aniruddha Bapu the Aadyapipa's Samadhi was established on 19th April 2007, in the presence of Param Poojya Aniruddha Bapu Himself along with, Param Poojya Nandaai and Param Poojya Suchitdada.
This Rakshakalash contains mixture of Udi given to Aadyapipa's father by Shree Sainath Himself along with the Udi that was given to Aadyapipa by Param Poojya Aniruddha Bapu Himself which is mixed with the mortal remains of Aadyapipa.
The six steps of this Samadhi  stands for the 6 purusharthas ,namely; Dharma (way of living life), artha (financial gains), kaam (betterment of life), moksha (salvation), bhakti (devotion) and maryada (dignity) that Aadyapipa realized with his Piplika panth (way). The Saisatcharita Granth that Aadyapipa read daily is placed on the top of the Samadhi.
For a Shraddhavaan to travel on the Piplika Marg the Samadhi Sthan can give him tremendously positive energetic vibes
We can pay our obeisance to the photograph of Shree Sainath when we stand on the Rangashila (stone) kept in front of Samadhi.
7. GHANTTA (BELL)
On 1st Jan, 2010, the Ghantaa (bell) has been installed at the Shreekshetra Gurukul. The installation was done amidst the chanting of the following mantra 54 times.
"Hinasti daityatejansi swanenapurya ya jagat,
Sa ghanta patu no devi papebhyoho na sutaneev"
8. VISHWALOCHAN CHAKRARAJ
This is the place of Mahapran Hanumant. One can memorise 80% of what he studies if one sits before this chakra and develops the practice. This chakra starts residing within the heart of a person if he sits in front of this chakra and reads devotional books with concentration for 82 minutes.
9. VACHANALAYA –LIBRARY
This library was started on 1st August,1999. One will find collection of books in five languages viz Hindi, Marathi, Gujarati, English and Sanskrit. Vedas, Upanishads, their Sanskrit codes, translations of dialects and comments, the ever revered Bhagwad Geeta, all the Purans and their sequels are kept in this library for devotional readers.
The Childrens' Section developed by the efforts of Param Poojya Nandaai Herself, is a true treasure trove for young children.
Shreekshetra Sadguru Nivas, Gurukul is truly a great shrine that rids devotees of their sorrows and bestows grace and knowledge upon them.