NEED: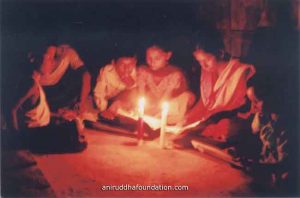 The lack of education has been a major cause of misery, poverty and ignorance. For instance, the lack of electricity supply or the lack of money to pay electricity bills leave students with very few daylight hours to actually study or do their homework after they come back to home from school. The location of the schools often require these small children to walk long distances and hence by the time they are back it is usually past sunset. It is unfortunate but true that this gradually leads to their dropping out of school and completely giving up education.
CONCEPT AND VISION:
With the intention to change this situation, candles and matchboxes are distributed among students who face the above described conditions.
The 'Vidya Prakash' or the 'Light of Knowledge' Project is an activity conducted by the Foundation to enable students to study even in absence of electricity by the means of candles.
To describe this project in more spiritual terms: 'Lord Ram is the Sun, the light in our lives, the positivety and One Who gives us the strength to fight the darkness and the evil.
Gifting candles to needy children for their study is actually expressing our love and gratitude towards Lord Ram, who is the original source of life and light in our lives.
ACTIVITY :
Devotees and volunteers submit candles and matchboxes at the upasana centers.
Many devotees even donate the candles on the special occasions like their birthdays, anniversaries etc. to these children.
The Foundation collects these candles and distributes them within remote geographic village areas to the needy students.
The Foundation not only gives candles but also very thoughtfully gives matchboxes along with it.
These candles have helped these children to reduce their dependency on the electricity while studying.
Areas in which this project has been implemented have seen huge reduction in their school drop-out rates.
At the same time the enrollment and passing rates in schools of these very areas have gone up tremendously.
The Foundation conducts distribution of these candles at Dhule, Nanded, etc and also at Kolhapur and Virar during the Medical and Health Services Camps held by it. The candles are supplied to the needy children throughout the year.
By the grace of Sadguru Shree Aniruddha Bapu this project is bringing light in the lives of our fellow beings.