Shree Jagannath Ashtatirtha Dham Mahotsav
Sadguru Shree Aniruddha Upasana Trust and Aniruddha Samarpan Pathak jointly made it possible for each and everyone to pay their obeisance to Lord Jagannath in an event organised here in Mumbai itself between May 3 to May 12, 2003.
Jagannath Puri is one Dham among the Char Dham. It is believed that Lord Jagannath showers love and bestows peace, joy and contentment on all devotees who seek darshan. The idols of Lord Jagannath, Balabhadra and their sister Subhadra at the Shree Jagannath Ashtatirtha Dham Mahotsav were carved in the same manner as they do in Jagannath Puri, Orissa, using a specific wood named Darubrahma (Brahma wood). 27 types of traditional attires were specially designed for the idols in the Mahotsav.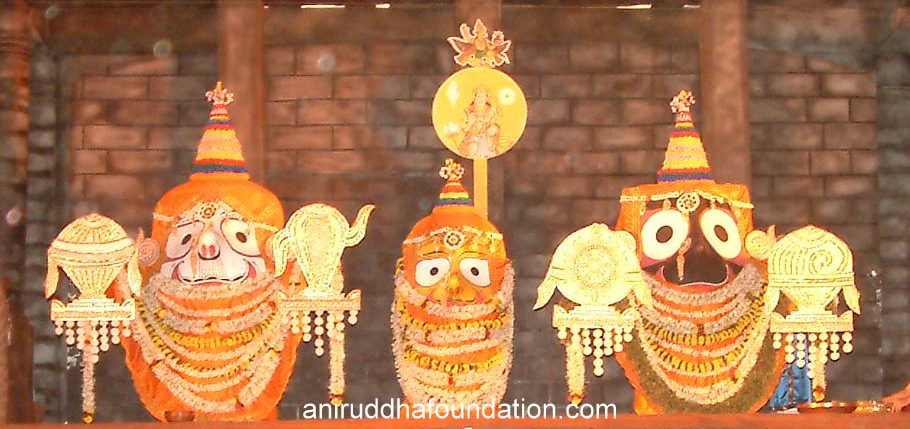 Shri Gaurang Chaitanya Mahaprabhu, an ardent devotee of Lord Jagannath has given the sacred mantra – 'Om Ramaya Jagannathaya Namah'. Sadguru Shree Aniruddha Bapu had solemnly resolved to complete the chanting of this mantra 12 crores times. The chanting would begin at 9 am and conclude at 9 pm. The mark was crossed way before the stipulated time. This was because of the unprecedented increase in the number of devotees that participated in the chanting. Jagannath Puri was built in a shape of Conch and the worship and the rites were performed in the same manner with pure sanctity as they do in the Jagannath temple in Puri. Aarti of Jagannath was performed hourly – 'पाद अंगुली नहीं है हाथ, दारुब्रह्म जगन्नाथ'- (Paad Anguli nahi hai haath, Daru Brahma Jagannath). The traditional attires worn by these idols were changed thrice a day. A satsang used to begin after 9 pm. Lakhs of devotees used to experience the sheer joy of feeling blessed then.
MOKSHAPURI
Shree Vrushabhnath is considered to be the first human form of Lord Mahavishnu. Shree Vrushabhnath's, three and a half feet idol made up of marble was installed at Mokshapuri.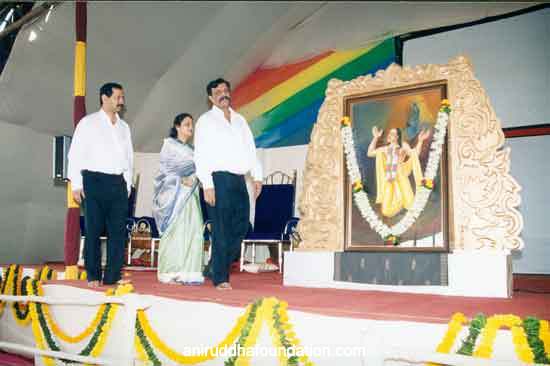 Sadguru Aniruddha Bapu had resolved to complete 1 crore times the chantings of the Navkar or Namokar mantra which is considered as sacred as the Gayatri Mantra. "Whoever steps into Mokshapuri, Vrushabhnath would definitely destroy his shadripus (6 enemies)". Thus, the presence of Shree Vrushabhanath in the life of his devotees is the acquisition of eternal bliss gained by attaining Moksha!
Shri Patitapavan Dham
In this Dham, water from seven holy rivers was stored in a huge pot (Jalakunda). Three holy trees of Banyan, Peepal and Audumber were planted on the inland in the middle of the Jalakunda. An idol of Shree Datta Digambar, made from the sacred earth and waters of Gangotri and Jamnotri was installed in the Jalakunda.
All the shraddhavans used to do Pradakshina around this Jalakunda. The environment in this Dham was really beautiful and sacred.
This Dham was specifically designed as per the instructions of Shree Aniruddha Bapu. The construction of this Dham was very peculiar and was built according to the instructions received from Sadguru Aniruddha Bapu as he wanted to liberate all the devotees who do the pradakshina and sing the gajar's sincerely with all their heart, from maximum possible sins.
Shri Hayagreeva Dham
Hayagreeva means the horse faced form of Lord Mahavishnu. Hayagreeva who symbolizes strength and valour, is always accompanied by the Goddess Bala and Mahabala. Entry was restricted only to male devotees so as to get maximum positive vibrations from the dham. Chavya muni, Parashar Rushi, Agastya Rushi and Arjun were ardent followers of Hayagreeva, a form of Mahavishnu.
Shri Savitri Dham
Savitri was the wife of King Satyavan. She, as Adimata Savitri symbolizes strength of a woman. She, as Sulakshana Savitri symbolizes fidelity. Both the idols were installed here at Savitri Dham.
Daily poojan of the Adimata Savitri who brought back her husband from the death, was carried out in this Dham. Here the entry was restricted only to ladies from young girls, unmarried to widows and old ones; everyone was welcomed in this Dham.
Shri Sant Puri
Shree Krishna Govind Hare Murari
Hey Naath Narayan Vasudeo Radhe, Radhe, Radhe….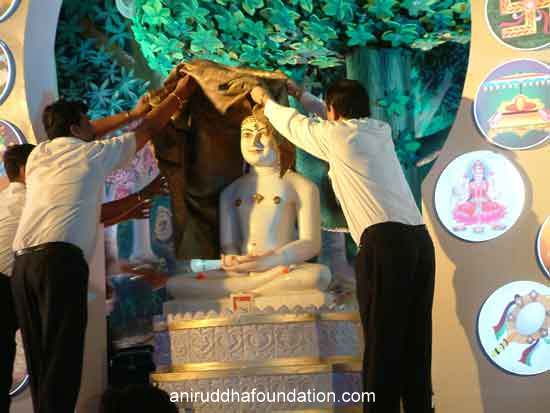 The only opportunity to immerse oneself in this Gajar was in Sant Puri. Shri Gaurang Chaitanya Mahaprabhu's presence was felt by every devotee who came to Sant Puri. Shri Sant Puri had become the abode for all the saints because of the continuous chanting of name of Shree Krishna.
Pitru Dham
Everyone wishes to perform their duties towards their ancestors. Sadguru Aniruddha Bapu's aim for this dham was to let every devotee avail the opportunity of offering Bilwa patra to Lord Shiva's 'Paramhansa Banalingam', the one who gives peace to our Aatma after death. Mantras were chanted continuously to bring peace and grace to late forefathers of all the attending devotees.
Yagna Puri
Agni, Deep, Aarti, Dhuni and Holy fire are the five elements of Yagna Purush. Five types of yagna were carried out based on the Yagna Aachar Samhita. Mantras of Shree Dattaguru, Shree Jagannath, Shree Ram, Shree Parabrahma and Shree Chaturvyuha were chanted while offerings were put into the sacred fire. Sacrifices of any sort and wastage of food grains were strictly avoided as oblations while performing the yagna.
Anirudha Dham
The ninth dham named 'Aniruddha Dham' was erected by the devotees for their Sadguru Aniruddha Bapu, just out of sheer love towards him. Here his teachings and details of various devotional services carried by Shree Aniruddha Upasana Foundation under the holy guidance of Sadguru Aniruddha Bapu were given to all the devotees.
The most significant part of this Utsav was that the darshan and entry was totally free of cost. There were no donation boxes. Proper money receipts were given to those who performed Poojan and Abhishek. Flowers, sweets etc. were not accepted as offerings except for coconut and basil (tulsi) leaves for Lord Jagannath.
The Mahabhog offered to the Lord Jagannath was later donated to old age homes and orphanages. This utsav saw religious unity. Many shraddhavans contributed equally to make Shree Jagannath Ashtatirth Dham Mahotsav a grand success.