SHREE JAGANATH ASHTATEERTH MAHOTSAVAM
Under the aegis of Sadguru Shree Aniruddha Upasana Trust and Aniruddha Samarpan Pathak, Shree Jaganath Ashtateerthdhaam Mahotsav, was held at Somaiya College ground, Sion, Mumbai from 3rd May 2003 to 12th May 2003.
Aims and Objectives of the Jagannath Ashtateerthdhaam Mahotsavam
To bring about social integration with devotion as its base.
Irrespective of age, sex, boundaries of language, across all the stratas and each one will come together as a family and participate in the Mahotsavam.
To make the notion stronger that caste or religion based bias will not be tolerated henceforth.
To enable every devotee to receive positive energy by chanting mantra's and to rid off their sins.
JAGANATH PURI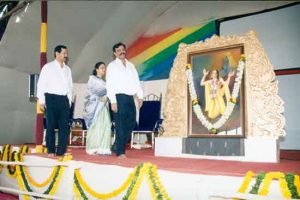 Paad Anguli Nahi Hai Haath, Darubrahma Jaganath
The above lines describe Lord Jaganath as, "The unique one who does not have any limbs". One's curiosity is aroused when we see the magnificent Lord Jaganath Yatra, after all He is none other than Lord Krishna. It is very difficult to travel all the way to Orissa to attend this Yatra but in the year 2003 Sadguru Shree Aniruddha Upasana Trust and Aniruddha Samarpan Pathak jointly made it possible for each and everyone to pay their obeisance to Lord Jaganath here in Mumbai itself.
The ChaardhamYatra is considered to be very sacred. Each one dreams of doing it at least once in their lifetime but is not possible for all. Jaganath Puri is one of the Chaardham. It is said that Lord Jaganath showers love and bestows peace, joy and contentment to all devotees who come for darshan.
The idols at the Ashtateerth Mahotsav were created in the same way as they are in Jagannath Puri, Orissa.
Darubrahma (Brahma wood) was used to make the idols of Lord Jaganath, Balabhadra and their sister Subhadra. 27 types of traditional attire for the idols were specially designed for the mahotsav.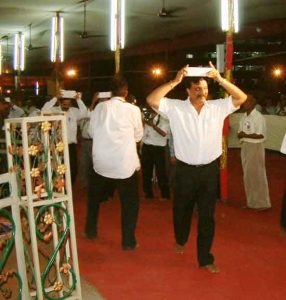 Sadguru Bapu carrying Papmochak Ishtika (Brick) on his head
Shri Gaurang Chaitanya Prabhu, an ardent devotee of Lord Jaganath has given the mahamaantra "Om Ramaya Jaganathaya Namah". Sadguru Shree Aniruddha had solemnly resolved to complete a specific number of chanting (12 crores) of the mantra. The chanting would begin at 9:00 am and conclude at 9:00 pm. The mark was crossed way before its was due. This was because of the unprecedented increase in the number of devotees that participated in the chanting. The Lord Jaganath Kshetra was shaped in the form of conch the rites and rituals were carried out with the same sanctity as at the temple in Puri. Aarti was performed hourly and each aarti had a uniqueness of its own. The attire worn by the the idols was traditional and was changed thrice a day. After 9:00 pm a satsang was held where lakhs of devotees experienced the sheer joy of feeling blessed.
Sadguru Shree Aniruddha had promised that Lord Jaganath, Lord Balabhadra and Goddess Subhadra would be at the Asthateerthdhaam to bless the devotees.
MOKSHAPURI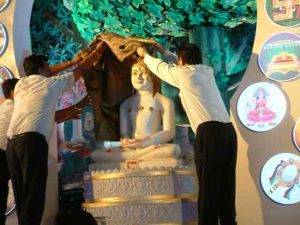 Shree Vrushabhnath is considered to be the first human form of Lord Shree Mahavishnu. A 3.5 ft marble idol of Shree Vrushabhnath was installed at Mokshapuri. Sadguru Aniruddha had resolved to complete 1 crore chantings of the navkaar mantra which is as sacred as the Gayatri Mantra.
Sadguru Aniruddha had promised that "Whoever steps into Mokshapuri, Vrushabhnath would definitely destroy his shadripus" thus ensuring every devotee of Shree Vrushabhnath's presence in his life which in simple term means moksha-final and eternal happiness.
SHRI PATITPAVAN DHAM
The location and ambience of this Dham appeared extremely beautiful and sacred. This Dham was specifically designed as per the instructions of Param Poojya Shree Aniruddha Bapu. His only motive behind setting up this Dham was to liberate all the devotees who do the pradakshina and sing the gajars sincerely with all their heart from maximum possible sins.
What Sadguru Bapu utters is the Truth; definite, unalterable and inevitable. His word never was and never will be anything but the Truth, Which is precisely why this place was erected as an assurance for all the mankind.
Water from 7 holy rivers of India were stored in a magnificent jalakunda (pond) which was erected in this dham. Three holy trees of Banyan, Peepal and Oudumber were planted on the inland in the middle of the basin. A idol of Shree Datta Digamber, made from the sacred earth and waters of Gangotri and Jamnotri was installed on this island.
SHRI HAYGREEVAYA DHAM
Haygreevaya means the horse faced form of Lord Shree Mahavishnu. He signifies strength, valour and every devotee prays to Him for the same. He is always accompanied by the Goddess Bala and Mahabala. Entry was restricted to male devotees so as to get the maximum positive vibrations from the dham. They were made to realize their responsibilities on the personal front as well as in society. To give them strength and valour to carry out these responsibilities was the main aim of Haygreevaya dham.Chavya muni, Parasher, Agastya muni and Arjun were ardent followers of Haygreevaya form of Mahavishnu.
SHREE SAVITRI DHAM
Savitri was the wife of King Satyavan. She, as Adimata Savitri symbolizes strength of a woman. She, as Sulakshana Savitri also symbolizes fidelity. Both the idols were installed here at Savitri dham. A woman should be able to carry her responsibilities as mother and wife competently. To provide her with unlimited strength for the aforementioned was the main aim behind erection of Savitri dham. Daily poojan of Adimata Savitri who with her innate devotion and love brought back her husband from the jaws of death, was carried out in this dham. Though there was no demarcation between young, old, spinster or widows at this dham but entry was restricted to ladies.
SHRI SANTPURI
Shree Krishna Govind Hare Murari
Hey Naath Narayan Vasudeo Radhe,Radhe, Radhe….The only opportunity to immerse oneself in this gajar was in Sant puri. Shri Gaurang Chaitanya Prabhu's presence could be felt by every devotee who came to Sant puri. This became the abode of all the saints because of the continuous chantings of name of Shree Krishna.
PITRU DHAM
Everyone wishes to perform their duties towards their progenitors (purvaaj). Sadguru Aniruddha's aim for this dham was to let every devotee avail the opportunity of offering Bilwa patra to Lord Shiva's 'Paramhansa Banalingam', the one who gives peace after death. Mantras were chanted continuously to bring peace and grace to late forefathers of all the attending devotees.
YAGNA PURI
Agni, Deep, Aarti, Dhuni and Holy fire are the five elements of Yagna Purush. Five types of yagna were carried out based on the Yagna Aachar Sanhita. Shree Dattaguru, Shree Jaganath, Shree Ram, Shree Parabrahma and Shree Chaturvyuha mantra were chanted while offerings were put into the sacred fire. Sacrifices of any sort and wastage of food grains were strictly avoided as oblations while performing the yajna.
ANIRUDDHA DHAM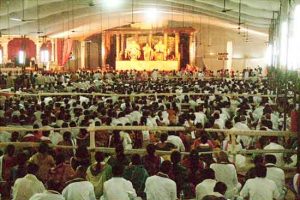 The nineth dham was installed by the devotees for their Sadguru Aniruddha just out of sheer love towards him. Here His teachings and details of various devotional services carried by Shree Aniruddha Upasana Foundation under the holy guidance of Sadguru Bapu was given to all attending devotees.
The most significant part of this utsav was that darshan could be taken totally free of cost. There were no donation boxes. Receipts were given for Poojan and consecration (abhishek). Flowers, sweets etc. were not accepted as offerings except for coconut and basil (tulsi) leaves for Lord Jagannath. The Mahabhog offered to Lord Jaganath was later donated to old age homes and orphanages. There was no religion based bias found anywhere in the mahotsav. The devotees from all religions like Hindus, Jains, Budhists, Sikhs and others contributed equally towards making of Shree Jaganath Ashtateerth Mahotsav a grand success.