Information about Holi Pournima Utsav  –
Holi Pournima Utsav is well-known as Rang Panchami or 'festival of colors', but it also signifies the victory of good over evil. It is celebrated on the Pournima (Full Moon day) in the month of Falgun, which falls somewhere between the end of February and the middle of March. Holi celebrations start on the night prior to Rang Panchami. Holika bonfire is lit where people gather, do religious rituals in front of it, and pray that the evil qualities inside them be destroyed, just like the logs in the bonfire.
Bhakta Pralhada and Holika Story –
There is a symbolic legend that explains that Holi is celebrated in the honor of Hindu god Vishnu and his follower bhakta Prahlada. Prahlad's father demon King Hiranyakashipu had earned a special boon. He could be killed by neither a human being nor an animal, neither indoors nor outdoors, neither at day nor at night, neither by astra nor by any shastra and neither on land, water or air. Hiranyakashipu grew arrogant over time and started to consider himself as God. He demanded that everyone worship only him.
Hiranyakashipu's own son, Prahlada, however, disagreed. He remained devoted to Vishnu. This infuriated Hiranyakashipu. He subjected Prahlada to cruel punishments, none of which affected him. Finally, Holika, Prahlada's evil aunt, was asked to sit on a pyre with Prahlada.Holika had a special boon that made her immune to fire. But when pyre was lit, a strange thing happened, Holika was burnt alive, but Prahlad was untouched by the fire. Thus Holika bonfire is lit in Holi to signify the celebration of the symbolic victory of good over evil.

Holi Pournima Utsav  and Shree Sainath –
Holi Pournima Utsav also holds special significance for devotees of Shree Shirdi Sainath. The 40th Adhyaay of 'Shree Saisacharita' explains the start of Holi Pournima Utsav at Sai Niwas.
Story of Hemadpanta from Shree Saisatcharita –
According to the story, in 1917 Hemadpantji had a vision in the morning. Baba appeared to him in his dream in the form of a Sanyasi, and told him that He would be coming to his place for meals that day. When he woke up from his dream, he did not see Sai or the Sanyasi. But when he began to recollect the dream, he remembered each and every word uttered by the Sanyasi. This was on the auspicious day of Holi Pournima!
Hemadpant's association with Baba was for seven years.  And even though he was quite close to Baba, he had never expected that Baba would come to his house for meals. However, he had full faith on Baba's words. So he informed his wife to cook extra food as he was expecting an additional guest.
Hemadpant was waiting eagerly as he knew Baba would keep HIS word even if it was a vision.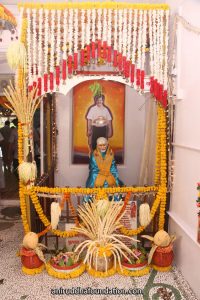 It was noon time when two Muslim youth came with a package wrapped in newspaper. Hemadpant opened the package and was overwhelmed by Baba's leelas. Tears ran unchecked as he held a beautiful image (Tasbeer) of Baba. From this day onwards Holi Pournima Utsav was started to celebrate Baba's arrival at Sai Niwas in form of a Tasbeer. The tradition has been followed for generations in Hemadpant's family. Now Holi Pournima, Hemadpant and Sai Niwas have become synonymous terms among devotees.
Holi Pournima at Sainivas –
Meena Dabholkar (granddaughter- in-law of Hemadpant) lovingly addressed as "Meena Vahini" had deep desire for Sai's Darshan. Her prayers were finally answered on 28th March 1996 in form of Sadguru Shree Anniruddha Bapu. Shree Appasaheb (Grandson of Shree Hemadpant) Dabholkar and Meenavahini Dabholkar had the darshan (vision) of Sainath Himself in place of Sadguru Bapu on 27th May, 1996. Sai Niwas has since then been transformed into Dwarkamaai to protect its devotees. In the year 1997, Shree Aniruddha Bapu established the statue of Sainath in Sai Niwas for the purpose of meditation. From that day onwards devotees are allowed to sit and pray in front of this divine statue.
Every year Holi Pournima Utsav is celebrated at Sainiwas, where shraddhavan can take part in the event and also have darshan.
Celebration of Holi Pournima in Sai Nivas –
It is very important for each bhakta to pay their obeisance to the tasbeer of Sai Baba on this particular day. As Bapu has mentioned that this is the first image of Sai Baba during His lifetime and we are the fortunate few who can bow and offer prayers to this 'Unique Image of Baba' at Sai Niwas  Bapu has also initiated a number of devotional events in this Utsav at Sai Niwas, such as:
Every year, two days prior to Holi Pournima, the parayan of Shree Saisacharita, marks the beginning of celebrations at Sai Niwas.
After the completion of Paaraayan a Dindi is taken around the house by chanting the following gajar:
'Dixit, Shama ,Hemad, Bayjabai, Nana, Ganu, Meghshyaam,
Hyanchi Vaat Pusta Pusta Millel Amha Sai Ram'
The flag or dhwaj with "Om Sai Ram" written on it is changed and worshiped on this auspicious day.
The 'Special Sainath Tasbeer' is worshiped with traditional rituals.
The Holika Mata Poojan is done and chanting of 'Om Krupasindhu Shree Sainathaay Namah' is done after the Holika is lit. Five types of grains are offered to Holika Mata and Aarti is performed.
This is followed by applying of Bukka by Bapu to Dabholkar Family and immediate members. And this ritual is continued by the shraddhavans coming for the darshan.
At the same time, Akhand jap of 'Om Sai Shivaya, Om Sai Ramaya, Om Sai Krishnaya Namah' is started by family members in the presence of Bapu. Every shraddhavan can take part in the chanting, which is continued throughout the day.
Akhand Deep was lit on this day.
One of the most significant aspect is every one can light a Sudeep near the Tulsi Vrindavan. Bapu has said that this is Meena Vahini's sacred place where she will be there forever as a bond between every shraddhavan and Bapu.
Shraddhavan bhaktas can also offer puran poli as an offering on that day.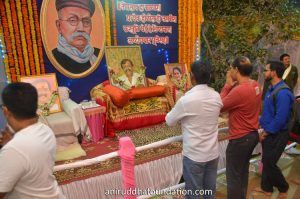 Centenary celebration of Holi Pournima Utsav in 2017 –
As Holi Pournima Utsav at Sai Niwas completed 100 years this year, hence a special pooja took take place at Sai Niwas on 11th March.
As per Sadguru Bapu's guidance, chanting of 'Om Krupasindhu Shree Sainathaay Namah' for 1,00,008 times from 8.00 am to 10.00 pm, was completed, on the same day.
Shree Appasaheb Dabholkar and his family members were simultaneously offering tulsipatra and belpatra on the 'Special Sai Tasbeer' during the chanting. All the shraddhavans got the opportunity to participate in this chanting.
The parayan was initiated on 9th of March, 2017. On the first day chapters 1 to 26 was read by shradhavans, which was continued on the second day i.e. 10th March till chapter 52. On 11th March, the reading of the final chapter (i.e. chapter no. 53) was completed, signifying the end of Paaraayan.
Due to this special occasion, 108 times parayan of the Shree Saicharitra Grantha was also completed at Sai Niwas on 25th February, 2017. 108 times chanting of "Shiv Panchaakshari Stotra" also took place on 19th February, 2017. Before that, 108 times chanting of "Shree Panchamukha Hanuman Kavach" also was completed on 12th February, 2017.
'Holi Pournima Utsav' is the day when Shree Sainath visited Sai Niwas in the form of an idol and since then has resided there forever. Bapu has clearly stated that that any image of God is not a mere image but 'Actual God' himself. So it is important that every shraddhavan bows before Sainath's idol on this special day and seek his divine blessings.­­