IMPORTANCE: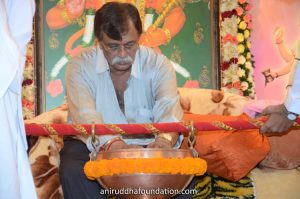 The Aniruddha Chalisa Being Chanted Every Hour Continuously In The Presence of Param Poojya Sadguru Shree Aniruddha Bapu.
The Sadguru is the guide, the friend who loves selflessly, who is the source of strength, of joy; who wants to see us all happy, who feels our pain and provides relief. He does all of this out of love and concern. He strives for our welfare and that He does at all times and at all costs. He is the One who turns darkness in our lives into light. He is the One who equips us to face and withstand difficult times. This He does without expecting or accepting anything from us. And so it is a special day for all the bhaktas of Sadguru Shree Aniruddha Bapu.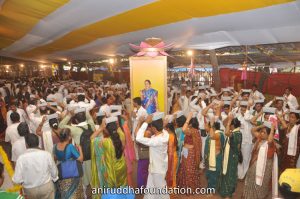 It is their day to express their gratitude and love for their Sadguru is all of the above and yet somuch more than words can express. He is the father, the dearest friend of each of the millions.
The Gurupournima organized by the Shree Aniruddha Upasana Foundation  (SAUF) is celebrated in atmosphere of sanctity, joy and of course discipline. Bhaktas are able to stand before Sadguru Shree Aniruddha Bapu and be blessed by Him. Millions of bhaktas from all over the world and all walks of life gather to attend this special function. They stand in long queues for six or even eight hours writing the Ramnaam in their Ramnaam books or chanting a mantra. This long winding queue then is no more a mere crowd of bhaktas, it is the 'bhakti-ganga' – a surge of the river of bhakti, pure as the waters of the ganga and as eager as the Ganga is, to see and offer the heart at the Sadguru's feet.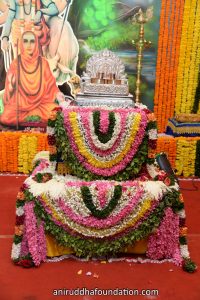 Sadguru Shree Aniruddha Bapu does not accept anything at all from His bhaktas. No flowers, no fruits, no greeting cards, no gifts, no sweets leave alone any money – just nothing at all. He says, "Make use of your resources to give to the needy, the deprived. Help them so that they become independent. Spin the charkha and the fabric that will be produced from the yarn will help clad poor students. Give to the Annapoorna-Prasadam project and help (to) feed children. They will be healthy and will be able to pursue their studies. Knit woollen clothes and help to keep little babies warm. Write the Ramnaam book. Chant the Ramraksha, the Ghorakashtoddharan stotra, the Hanuman Chalisa. That is your yadnya, your charity and your austerity. That is what will cleanse you of your ill-fate. That is what makes me happy because all I want is to see you happy." Would the bhakta of this Sadguru not willingly live in gratitude for Him? Yes, it goes without saying that he would and so he does. The wait in the queue, in the 'bhakti-ganga' is very precious for the bhakta – when this wait ends, he is before the Sadguru.