Shree Ramkatha and Sunderkand
Sundarkand, a part of 'Shri Ram Katha' by the Saint Tulsidas (known as Tulsi Ramayan), is a very beautiful, glowing and auspicious pinnacle of 'Ramayan'. Shri Ram Katha not only ends all hindrances, sins, sorrows and doubts; but also gives rise to pure devotion. Shree Ramkatha wards off all the evil from a shradhavan's life (devotee), and so Saint Tulsidas aptly describes it 'Mangal bhavan Amangal haari'.
Sunderkand – A tale of ultimate triumph
Sunderkand means the successful journey of Lord Hanumanta, from his great leap over the sea into Lanka, in search of Sitamata, followed by Lanka dahan (burning of the Lanka), Shri Ram – Hanumanta's emotional reunion, first acquaintance of Lord Ram with Vibhishan, Laxman writing a warning letter to Ravan, apparent surrender of the sea to Shri Ram, to 'Setubandhan'.
Benefits of Sunderkand recitation:
Sunderkand is a beautiful amalgamation of devotion and the Almighty. It is firmly believed that 'Shriram and Hanumanta' protect and take care of those who read the Sundarkand with pure love & faith. Hanuman is the epitome of devotion, humility and bravery. Hanuman means sacrifice, competence and purity. Hanuman is considered as the highest level of intelligence. The most significant message which transpires from Sunderkand is that, Hanuman being God himself, leads his life with a strong conviction thathe is Shree Ram's devotee who considers himself at his feet (das).
Series of Article on Sunderkand
Dr. Aniruddha Joshi (Sadguru Shree Aniruddha Bapu) started writing series of articles in daily newspaper 'Pratyaksha' since Narad Jayanti, 3rd May 2007 which continues as of date since past 10 years. These series of articles titled as 'Tulsipatra' presents the reader with divine experience. Sadguru Aniruddha Bapu, through these articles has also revealed 'the universal truth' to the world. This series is a golden gateway to all shradhavans to live a happy and a complete life. Dr Aniruddha Joshi while explaining the importance of Sunderkand said that it is one of the most beautiful part (Sundar) of the entire Ramayan and that it is the pinnacle of the divine purity and enlightment and that he has deep affection for Sunderkand. He added that his article on every line of Sunderkand is his worship to the great holiness of the Sunderkand.
Sunderkand Pathan Ustav
Shree Aniruddha Upasana Foundation had organised  Sunderkand Pathan, poojan and abhishek from 17th May 2016 to 21st May 2016 at Shree Harigurugram, Bandra, Mumbai. Thousands of shraddhavans had participated in this Utsav.
Where to get Sunderkand book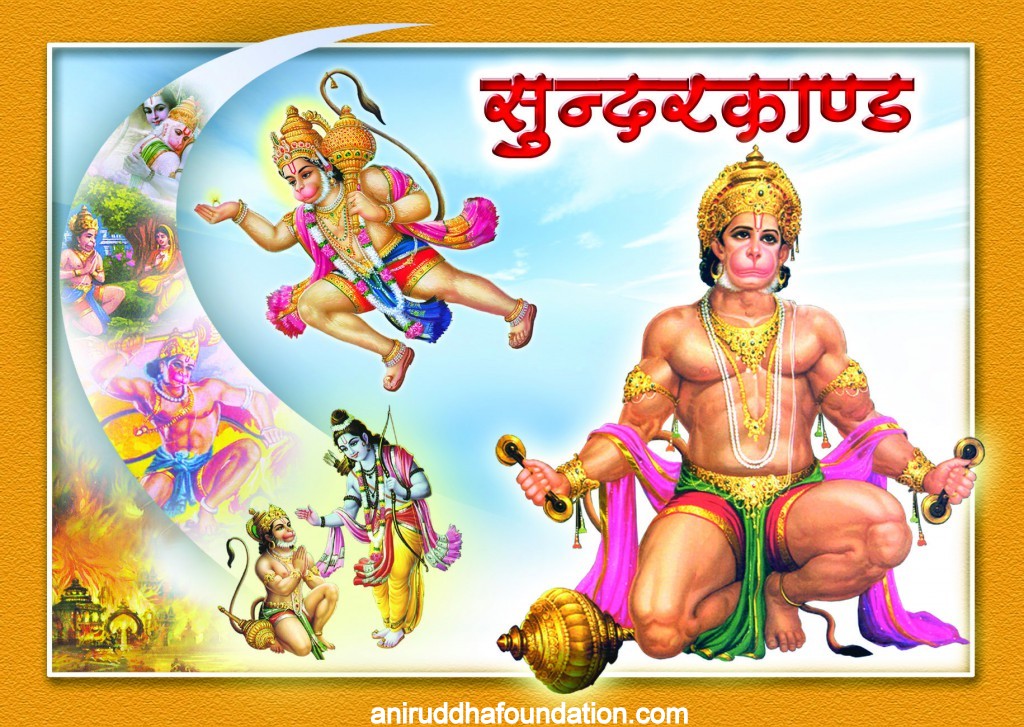 Sunderkand in the form of book with brief meaning is available in an e-version as well as print copy on e-Anjaneya website.