Textbook Of Disaster Management

Book On Disaster Management: Aniruddha's Academy Of Disaster Management.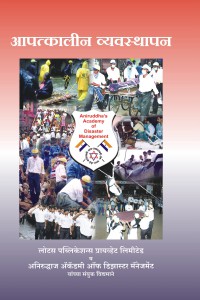 On 26th January 2001, at Bhuj in the state of Gujarat, a disastrous earthquake occurred, causing a colossal loss of human lives and money. Five to six months later, Dr. Aniruddha Joshi i.e. Sadguru Aniruddha Bapu having given the tragedy aconsiderate thought, sent batches of volunteers to attend to the primary healthcare of the needy as well as to give other services. In hindsight, it seemed a correct decision as it was then that the victims of the earthquake needed utmost help and support.
This earthquake was followedby series of natural and manmade disasters,occurring throughout India. Recognising that disaster preparedness was the dire need of the hour, both at an individual and social level, Aniruddha Bapu set about with the idea of forming a disaster management academy. Accordingly, under Bapu's guidance the 'Aniruddha's Academy of Disaster Management' was formally instituted on 14th March 2002.
   Textbook of Disaster Management :
The Academy after establishing itself  gavefirst priority to prepare a complete and an exhaustive book on the subject of Disaster Management. Today, with the help of this book about 70,000 Indian citizen's have been trained in various aspects of disasters. With schools and universities too having included the subject of disaster management in their curriculum,the book has turned amajor help for the students.
Care has been taken to design and narratethe Book in a very simple and easy way. It includes topics like types of disasters, disaster response and disaster preparedness. If the information, the guidance and the instructions in the book are followed to the mark, then disasters could be competently and confidently handled.
Basic Course in Disaster Management:
Aniruddha's Academy of Disaster Management offers a free of charge 'Basic Course'in Disaster Management. It is a six days curriculum. At the end of the training a small test is conducted. The participants are made primarily well known with various types of disasters,  rescue methods and first aid.
With the help of the book, many are trained to become Disaster Management Volunteers (DMVs).