The Exponent Group Of Journals would not have seen the light of the day, were it not for the inspiration and guidance provided by our Sadguru Shri Aniruddha Bapu (Dr. Aniruddha Dhairyadhar Joshi – MD. Medicine – Rheumatologist ). On May 6, 2010, Sadguru Bapu, in His discourse laid open his blueprint on how RamRajya can actually be achieved and The Exponent Group Of Journals is one of the many projects that is part of the grand scheme laid down therein.

This journal endeavors to stand true to the word Exponent, which means a person who possesses and demonstrates a particular skill at a very high level or standard. It will contain updated, special and general knowledge in that particular field that is essential for the progress of every individual.
We undertake this journey with prayers on our lips, and a strong sense of self-belief that, with our relentless efforts, we will be able to achieve all that is expected of us; purely because of the eternal grace of our Sadguru, Shri Aniruddha.
Shares & Stock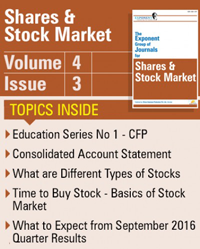 Stocks are a fabulous category of financial instruments ,without a doubt, one of the greatest tools ever invented for building wealth. Stocks need to be a part, if not the cornerstone, of nearly any investment portfolio. When you start on your road to financial freedom, you need to have a solid understanding of stocks and how they trade on the stock market.
Over the last few decades, the average person's interest in the stock market has grown exponentially. What was once a toy of the rich has now turned into the vehicle of choice for growing wealth. This demand coupled with advances in trading technology has opened up the markets so that nowadays nearly anybody can own stocks.
Despite their popularity, however, most people don't fully understand stocks. Much is learned from conversations around the water cooler with others who also don't know what they're talking about.
---
Health and Health Services Information

The Exponent Group of Journals for Health and Health Services Information as conceptualized by Dr.Aniruddha D. Joshi (known as Sadguru Shree Aniruddha Bapu to millions) intends to provide useful and essential information on varied health related issues for a layman (a common man who does not have knowledge of a particular subject) there by assisting him in maintaining and improving his wellbeing when confronted with new and recurring challenges to his existence due to environmental and infective challenges which emerge every day. This Journal aims to help a common man enjoy and live life to the fullest while understanding the health related issues he was always curious about and wade through the jargon that is medical terminology.
---
 Information Technology

The discipline of Information Technology is undergoing rapid churn over the last decade. There has been a profileration of devices that are always connected with the web. This has led to a proliferation of web based services to cater to the needs of always connected users. Even the enterprises are seen favoring provision of internal software over web for consumption by their employees. This trend has been catalyzed by the recent developments in cloud computing which has drastically reduced the barrier to entry for new startups and which has the potential to provide economic advantages to enterprises as well.
These days we are seeing the compute, storage, and internet infrastructure being put to innovative usage regularly.With such rapid changes in the field of IT, having one skill-set spanning the entire career may not be practical and jobs are getting obsolete within a span of few years. Therefore it is very crucial for IT professionals to be up-to-date with the latest developments and happenings in this field. The "Exponent Group of Journals for Information Technology" attempts to capture some of the recent innovations, developments and trends in this discipline. This Journal is intended for specialists in the IT industry as well as the common man interested in knowing about the new offerings of this field.
---
General Engineering

Over the years  man has engineered  to use the natural resources for the his  benefits, comfort and continuous progress. This was possible only with the development  of science and its application i.e technology,   right from the simple wheel to today's modern rockets and satellites.  The Exponent Group of Journals for General Engineering  aims at creating   awareness  to common man about engineering in his daily-to-day  life,  giving insight to the students entering the engineering fields in today's  confusing  education system and  also  captures the latest trends  covering various fields and advances  encompassing  some key areas of engineering right from  engineering developments since ancient edges to modern highly intricate and sophisticated technologies.
---
Electronics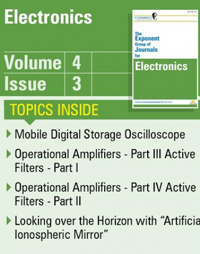 The objective of Exponent Group of Journals for Electronics is to enhance new knowledge and technology among the rural youth, common man, academic and research community, professionals and industry practitioner. We are also focusing to introduce each journal as a basic platform for various subjects in the electronics areas in order to realize new theories and developments for common man communities; thus bridging the gap between common man and technology, later research theories and industrial developments are also incorporated. This Electronics Journal provides a platform for common man, researchers, industrialist and students to submit on-going research activities and developments in these areas. Overall a main objective is to impart quality education and practical knowledge through the articles.
---
Professional Medicine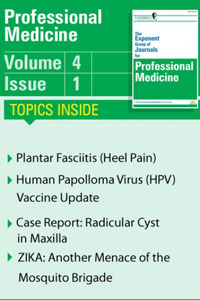 The Exponent Journal for Professional Medicine aims to bridge the ever increasing gap between the knowledge of health care specialists and the advances occurring in all aspects of the medical field from technology to management and pharmacy so as to assist him to make a better informed choice managing his patients. It seeks to clarify and refresh concepts for the health care professional who is unable to do so due to the restrictions imposed by his busy schedule.
---
 Chartered Accountants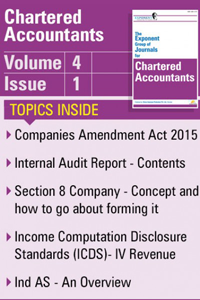 The Exponent Group of Journals for Chartered Accountants brings you e-journals, containing information that will not only update the knowledge of the reader, but also facilitate its application at the workplace. The e-journal will not only be useful to CAs in practice and in industry, but also to those who handle the work profile of a CA in medium sized organizations, by virtue of their knowledge and experience, although they are not qualified CAs. The Journal will also cater to students who are undergoing the CA course.
---
MBA

Rivers have tributaries and all rivers have a source of water , a starting point and ending in a Sea or Ocean sometimes, traversing all types of terrain and taking all types of things along with it and creating a fertile ground in its environment wherever it crosses through.
Our
MBA Journal
is a similar Endeavour to bring to you the "Experiences" of a "Seasoned Professional"  and help you whether you are a student or a working person to assimilate the practical knowledge and Learn how same you can use in your daily work place either through Knowledge enhancing or Practical applications.
We are  not here to say what is Right and Wrong nor make case study for Self Help , we go beyond and help you Grow and Enjoy the articles that are there in the following pages.
Enjoy is our mantra. Unless you  Enjoy you will not learn. Work is serious Fun and this MBA Journal will stand apart in the plethora of journals in Network for the sheer fact that it is not a Theoretical piece of work but a series of writings by people who in their own discipline have been CEO's – CEO is defined as Chief Energy Officer – it is their Energy that spurns Growth and they are all High Performers in their respective companies .
Our aim is to give you cross functional Industry exposure and we are sure you will appreciate same. We have made the articles crisp short and simple in layout.
Happy Reading or should we say Happy Unlearning!
FOR MORE INFORMATION ABOUT THE EXPONENT GROUP OF JOURNALS, PLEASE VISIT