Ram Navmi Utsav
Shree Ram was born at noon on Chaitra Shuddha Navami (ninth day of Chaitra month). Ram Navmi ustav is celebrated by 'Shree Aniruddha Upasana Foundation' since the year 1996 with great energy and devotion. Shraddhavans can participate in the various events celebrated on this day.
Events held during Ram Navmi Utsav :
a) Shree Sai- Ram Sahastra Yagna –
The Sai-Ram Sahastra yadnya commences in the morning. "Deepshika" from Sai Nivas is taken to the place of Ustav. "Appati Nivarak Samidha" can be offered by Shraddhavan in the yagna.
b) Shree Ramvardaini Mahishasurmardini Poojan –
Sadguru Aniruddha Bapu has elaborately described the war between Ram and Ravan in "Matruvatslyavindanam" granth. Adimata Mahishasurmardini, then during midnight appeared as "Ashtadashabooja Mahishasurmarnini" (अष्टादशभूजा महिषासुरमर्दिनी) in her "Shree Ramvardaini" (श्री रामवरदायिनी ) avatar on the war turf and blessed Shree Ram by assuring Him of victory in the war against demon Ravan. Due to Her blessing Shree Ram emerged victorious. Adimata once again appeared as "Mahishasurmardini" and blessed Shree Ram that he and his naam will eternally remain victorious – "Ramo Rajamani Sada Vijayate" (रामो राजमणि सदा विजयते). Due to Her blessings, Ram Naam became "Tarak Mantra"(Saviour Mantra) and her avatar was called "Ramvardaini Durga". Hence Shree Ramvardaini Mahishasurmardini Poojan is performed during the Ram Navmi Utsav.
c) Renukamata Poojan –
On the day of Ram Navmi, Shree Renukamata's arrival in form of a sculpture of her face (तांदळा) is celebrated with enthusiasm accompanied with sounds of pious musical instruments. A Shodashaupchar poojan is performed for her, followed by Abhishek. It is a beautiful experience to watch the Abhishek ritual. Sadguru Bapu performs the Aarti of Renukamata. It is extremely beneficial to take Renukamata's darshan and further pray for Her grace and kindness to get the Paramatma's active presence in our lives as well"
d) Ram Janma (birth of Shree Ram) –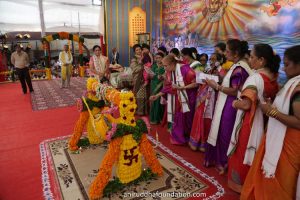 Rudrakshamala, Shaligram and Trishul were the three things given by Sai Baba to Hemadpant (Author of Shree Saisatcharitra) which are mentioned in Saisatcharitra as well. Poojan is performed on Rudrakshamala, Shaligram and Trishul which are brought at the Ustav place from Sai Niwas. Recitation of "Ghorkastodharan Stotra" is done along with the poojan.
f ) Shree Sainath Mahimn Abhishek –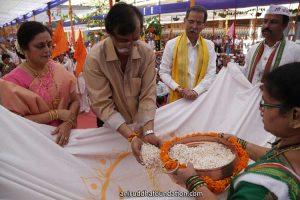 Shree Sainath Mahimn Abhishek is performed on an idol of Shree Sainath, called the "Shree Sai Sadashiv Moorti".
h) Recitation Jap –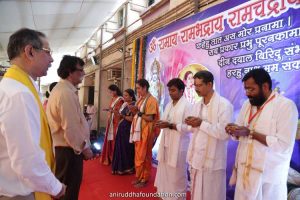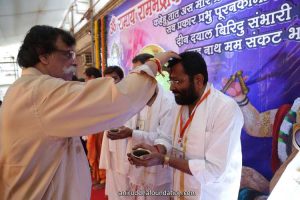 Continuous recitation of "Om Ramaya Rambhadraya Ramchandraya Namah" is done the entire day. All the religious activities are conducted in presence of Sadguru Aniruddha Bapu. All sharddhavans doing the pathan apply black coloured "Bukka" on each other's forehead and exchanges good wishes.
i) Shree Sai Satcharitra Adhyayankaksh –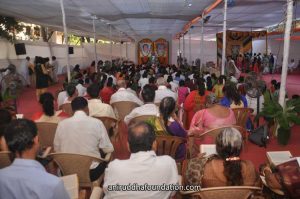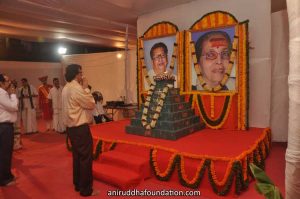 Continuous recitation of Sai Satcharitra chapters is done herein this section during the Ram Navmi utsav. Adyapipadada is Shree Sureshchandra Pandurang Dattopadhye who was a staunch devotee of Sai Baba and one of the senior most followers of Sadguru Aniruddha Bapu. For 60 years he followed a practice of reading (Parayan) the entire Sai Satcharitra on 4 occasions namely Ram Navmi, Guru Pornima, Gokul Ashtmi (Krishna Janamsatmi) and Dussehra. He would begin his parayan a week before, so that it would be completed by noon on these auspicious days.
j) Shree Aniruddha Handi Prasad  –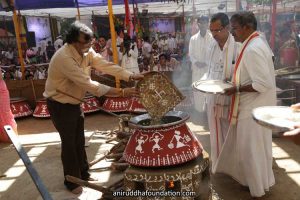 In this auspicious day, Sadguru Aniruddha Bapu himself takes part in cooking of Handi Prasad i.e. the prasad received on day of Ram Navmi is touched and blessed by Sadguru Shree Aniruddha. He mixes various food items which are used to prepare the handi prasad. Here everyone can recollect the description of Handi Prasad by Shree Sai Baba mentioned in the Sai Satcharitra. Obviously, the experience of consuming Prasad is unique and indescribable.  No one leaves the Ustav without eating this handi prasad.
Later in the night,Shree Ram Sahastra Yagna is completed, followed by Maha Aarti to complete the Ustav day.