IMPORTANCE:
Lord Ram was born on Chaitra Navmi. Ram means Happiness, Ram means Synergy, Ram also means Restraint and Ram means a Role Model. Since 1996, every year, our Foundation celebrates Ramnavmi with much happiness, enthusiasm and in an environment that is full of devotion.
EVENTS OF THE DAY
1. SHREE SAIRAM SAHASTRA YAGNA:
In the morning, the ritual of Yadnya starts. This Yadnya is called 'Shree Sairam Sahastra Yadnya '. Shree Deepshikha is brought from Sai Niwas to the venue. Every devotee can make an offering while chanting the Tarak Mantra. Due to the offerings, one's body and mind obtain positive vibrations. Similarly, because the Mind also gets strengthened, the sins of one's previous births get eradicated as well. 'Aapatti Nivarak Sameedha' is available during this Yadnya.
2. SHREE RAMVARADAYINI MAHISHASURMARDINI POOJAN:
With the blessings of "Aadimata Mahishasurmardini", Ram's victory over Ravan was achieved. This story has been narrated in detail by Shree Aniruddha in Shree Matruvatsyalavindanam. Thus, the Poojan of 'Shree Ramavardayini Aadimata Mahishasurmardini' is performed on this day.
3. RAMJANM (THE EVENT OF BIRTH OF LORD SHREE RAM):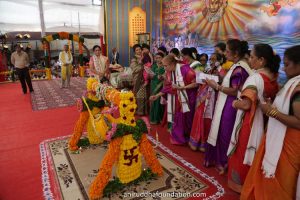 4. SHREE SAI SATPOOJAN:
Three things, viz, 'Rudraksha garland, Trishul and Shaligram' which were given by Shree Sainaath to Hemadpant (writer of Shri Sai satcharitra) are then brought to the venue for Poojan. People keep chanting 'Shree Ghorakashtodharan Stotra' the whole day and perform 'Shree Saisat Poojan' as well.
5. SHREE SAINATH MAHIMNABHISHEK:
An Abhishek is performed on the Idol of Shree Sainath called "Shree Sai Sadashiv Idol." This ritual is performed through the process of 'Shree Sainath Mahamnabhishek.' Every devotee can participate in performing this Abhishek. This Abhishek is particularly useful and beneficial for the health of all members of a family and in particular for children of the household.
6. TALIBHARAN:
7. AKHAND JAP: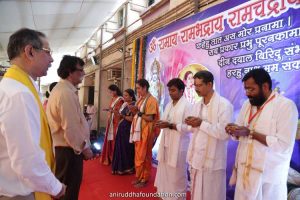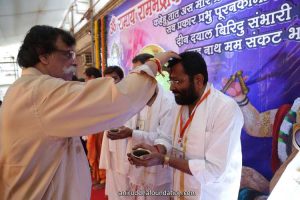 On the auspicious day of Ramnavami, a mantra "Om Ramaay Rambhadray Ramchandray Namah" is chanted continuously all through the day. This ritual is also performed in the presence of Sadguru Shree Aniruddha, Nandaai and Suchitdada. All those who chant this mantra put Bukka on each other's forehead first by greeting that person with a Namaskar. The sentiments are supreme behind this action. The person on whose forehead the Bukka is applied symbolizes Bhakta shrestha Pundalik and the person who applies Bukka, also uses his hands which are symbolic of the hands of Bhakta Shrestha Pundalik. With these sentiments all those who sit for chanting apply Bukka on each other's forehead and then start the chanting. All those who witness this, derive immense and unique happiness.
8. SAI SATCHARITRA ADHYAYAN KAKSHA: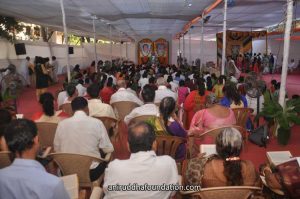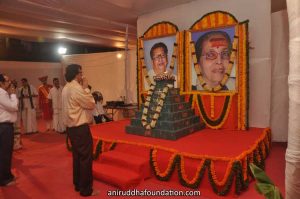 For this event, a separate area is demarked as "Aadyapipadada" Section, in this section continuous reading of Sai Satcharitra is performed. Aadyapipadada is none other than Shree Sureshchandra Pandurang Dattopadhye. An ardent devotee of Shree Sainath and a true follower of Bapu! Every year, he used to perform Parayan of 'Shree Sai satcharitra' four times i.e. on Ramnavami, Gurupoornima, Krushnashtami, and Dassera. This was his regime for almost 60 years. He used to end his reading of a week in the afternoon on the day of Krushnashtami. He left for heavenly abode exactly on the day of Krushnashtami. This is the Abhisamvahan of Sainath that he performed all through his life. As described in the 11th chapter, "Akahand Ram Ladhal" turned out to be true in his life. Every devotee who enters this section resolves to try to become a devotee like him before he begins reading chapters from 'Shree Sai Satcharitra'.
9. SHREE ANIRUDDHA HANDI PRASAD: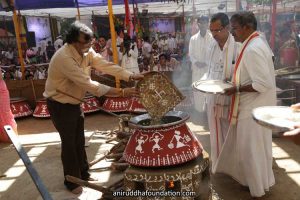 Param Poojya Bapu participating in the preparation of the Handi Prasad On this auspicious day, every devotee can benefit from obtaining Prasad that is touched and blessed by Shree Aniruddha Bapu himself. While this is being cooked, Bapu himself adds the required ingredients to the Handi (Big Pot) and he himself stirs it as well. This is the most unique thing about this Prasad. This Handi Prasad reminds every one of the Handi Prasad as described in 'Shree Sai Satcharitra'. This Prasad not only tastes unique but the taste is indescribable as well. Each and every devotee does not leave the venue unless he takes this Prasad.
In the night, after the culmination of 'Shree Sairam Sahastra Yadnya' and after 'Mahaarti' this festival comes to an end. Every devotee can individually, personally participate in this unique festival celebrated on the day of Ramnavami.