Shree Aniruddha Upasana Foundation has given itself to the cause of providing support and relief at the grass roots. Out of the many projects undertaken by the Foundation, one such extensive and unique project is the Kolhapur Medical and Healthcare Camp.
This camp, a brainchild of Dr. Aniruddha D. Joshi (Sadguru Aniruddha Bapu), has been organized since the year 2005 and the villages, schools taking advantage of the facilities provided at the camp, have undergone a transformation. The children were living in torn clothes, suffering with skin diseases. They were also undernourished, underprivileged, appeared unclean and have undergone visible drastic changes now. Cleanliness and dapperness, along with imbibing of good habits and physical, educational, spiritual development displays the success of the Camp.
Organising Kolhapur Medical and Healthcare Camp –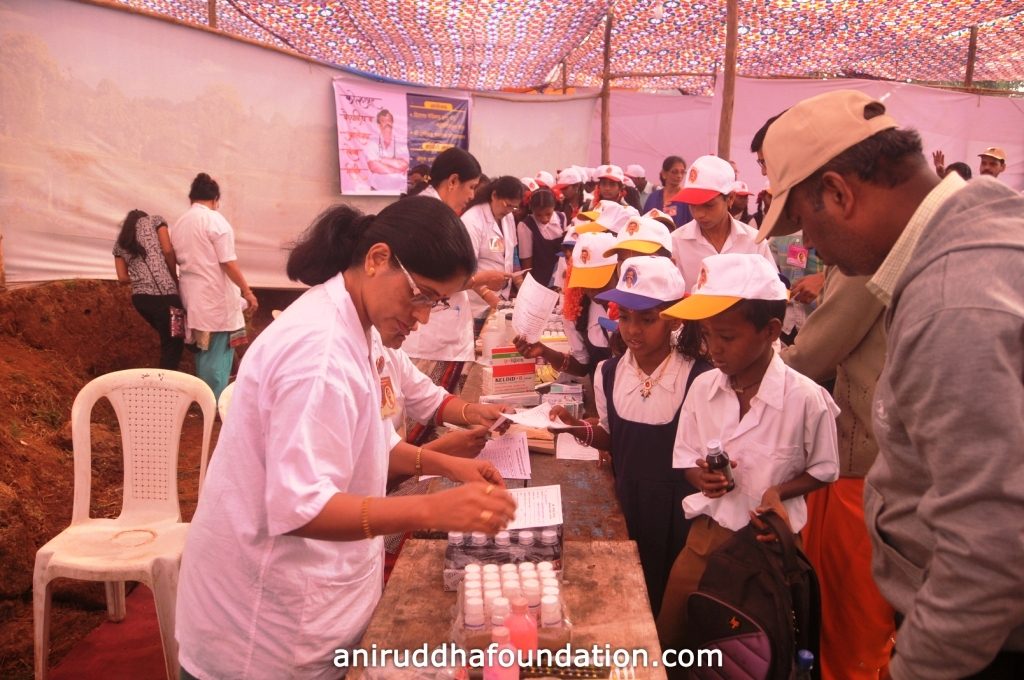 Shree Aniruddha Upasana Foundation, Dilasa Medical Trust & Rehabilitation Center, Shreeguru Upasana Foundation, Shree Aniruddha Aadesh Pathak, Aniruddha's House of Friends together organise this camp. In the beginning, this camp was organised at the Karanjfen village. However, from the year 2005, the Camp is organised at Pendakhale village in the Shahuvadi taluka.
The situation in the villages located only a few kilometers from Kolhapur, is challenging. The Foundation noticed this fact. Hence after a requisite survey, research and study and it was decided upon to conduct this Camp in the villages around Kolhapur.
Prearrangements for the Kolhapur Medical and Healthcare Camp 
This camp is set up across an area of approximately 10 acres. The pavilion occupies an area of approximately 80,000 sq. ft. Every year, the villagers of the Pendakhale come together and make their land available for the Camp. They themselves carry out all the activities of land repairs, land levelling, etc. For carrying out the task of making the land even, about 800 villagers offer their services. Even though the Camp's pre-arrangements begin few days prior, its preparations are actually being carried out throughout the year. This includes everything from Camp review, additional reforms, follow-ups to survey, etc.
The Camp's Success Story –
While organising this Camp, special heed is paid to correcting the personal hygiene habits of villagers. Every essential requirement right from body soap to lice medication is distributed to them. Over a period of time, the villagers' habits with respect to keeping themselves clean, neat and tidy have changed and the villages have undergone drastic transformation.
This camp has yielded the following results –
Villagers' complaints with respect to their health have decreased to a large extent.
The villagers acknowledge the importance of cleanliness for self and environment and thus have adopted the same.
The number of leprosy patients has reduced significantly.
The extent of infectious diseases has decreased.
Diseases originating from contaminated water are almost completely eradicated.
The number of villages and schools taking advantage of the Camp every year has been increasing.
The number of students in the beneficiary schools too is increasing. Also, the schools are displaying good academic results.
Villagers are now well educated about family planning. The gynecologists also express their content at the awareness now being visible in the villagers regarding it.
Kolhapur Medical and Healthcare Camp –
Approximately 4,000 volunteers are available to offer their services for the Camp. Out of these, 1,000 volunteers are from Mumbai and Pune. These also include doctors and the paramedical staff.
On the first day of the camp, the distribution process begins early in the day. Trucks filled with bundles of assorted hygiene material are taken by volunteers to the villages that have been previously surveyed. A bundle is prepared for each family in the village with name tags. In year 2017, hygiene material was distributed to 8,766 families from 92 villages. When the volunteers return to the Camp after a long day of hard work, a satsang is organised.
On the second day, the medical camp begins. Villagers and schools start arriving here, early in the morning. Annapurna Mahaprasadam begins at lunch time. The medical camp runs continuously till 7 in the evening. These volunteers return with an extraordinary bag, full of experiences and content.
Aspects of Kolhapur Medical and Health Care Camp –
Medical Details –

Thousands of villagers from the neighbouring villages participate in this Camp. The patients receive free check-ups at the medical camp. This includes facilities for x-rays along with general check-ups. Eye checkups are performed and spectacles are distributed free of charge. A facility for performing ECG is also provided in the medical section. Dental check-ups are also offered. In 2017, check-ups for more than 15 thousand patients were performed free of cost. A total of 9,348 students from 133 schools received medical check-ups.
Healthcare Aspect –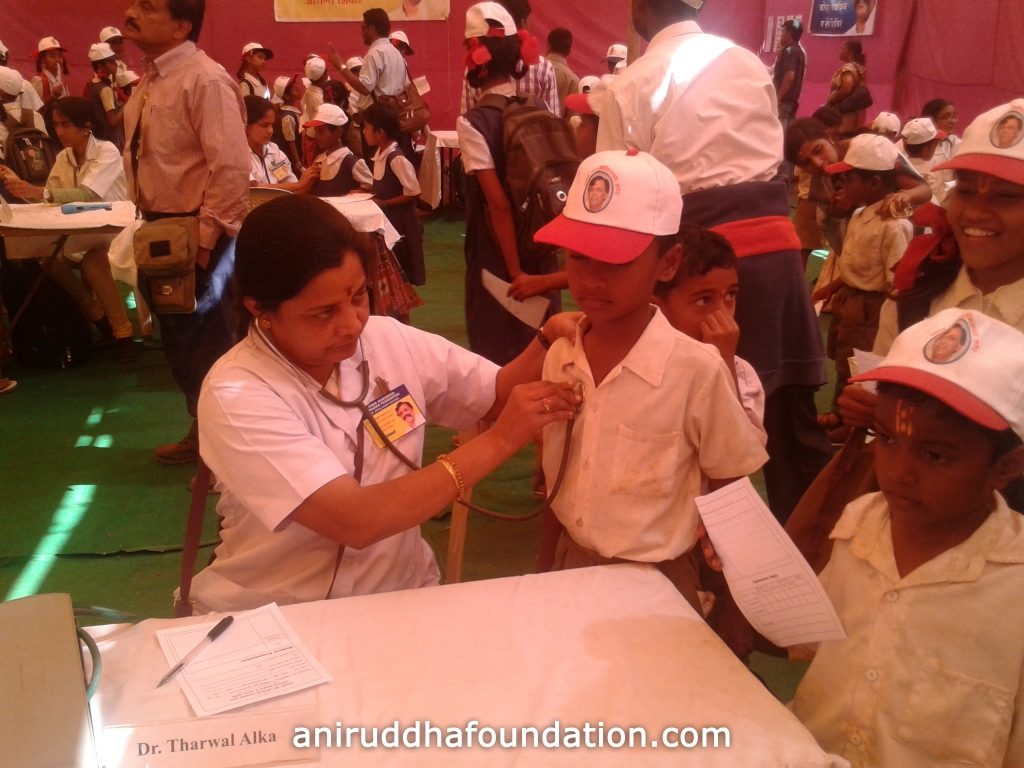 It was found in the survey performed at the beginning of the camp that factors such as unclean water, open defecation, unclean living conditions together invite diseases. Hence, hygiene material is provided by visiting each village. This includes items like dental powder, soap, water purifiers, lice medication, quilts, clothes and utensils. This distribution is done as per the requirements of each family. To avoid matted hair, combs are distributed to girls. They are also instructed about personal hygiene. All these factors have contributed to decrease in illness and improved conditions.
Educational Details –

More than hundred schools participate in this camp held at Kolhapur every year. Students and teachers from these schools visit the camp where students are given footwear and caps free of cost. Registration of every school and each of its students attending the camp is carried out. They are provided medical check-ups and vitamin medication as per their requirement for free. Parents here are not in the financial state to afford a uniform for their children.

On many occasions, these students have to travel to school, barefoot. Due to unavailability of electricity in the villages, these students cannot study in the dark. Taking all these conditions into consideration, students are distributed necessary items. Students are also given packets of dry fruits to provide essential nutritional elements. They are distributed candles and matchboxes to enable them to study after dark. This activity is carried out as part of 'Light of Knowledge Project'.Students are distributed uniforms for free. Shraddhavan friends and followers of Shree Aniruddha, spin the charkha and make hanks under the "Charkha Project" which are then used to prepare these uniforms.

Fabric is woven from these hanks which gets used in its making.They are also provided with sports sets. This includes skipping ropes, rings, footballs, frisbees, cricket kits, etc. This aspect of the Camp proves to be important for children to be able to receive education and to make the future generation more capable and strong. Two students who have been beneficiaries of this camp for years have even become doctors. This in itself reveals the success of the camp.
Annapurna Mahaprasadam –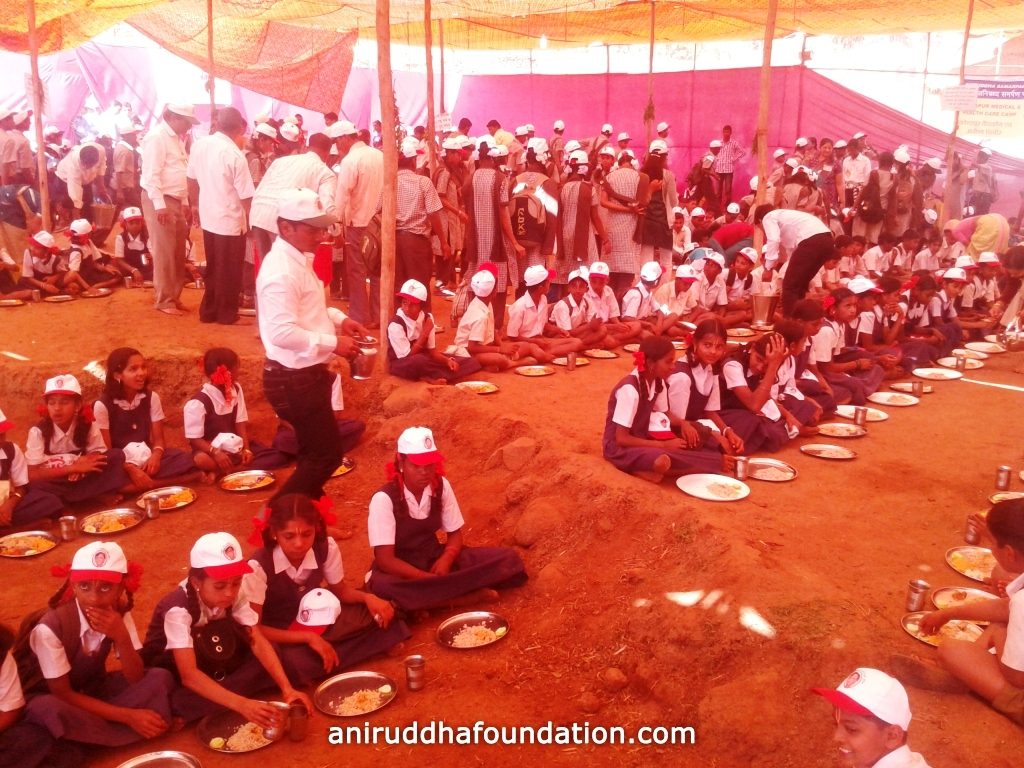 Every student receives free food under the Annapurna Mahaprasadam Project. Annapurna Mahaprasadam is a relief for all the beneficiaries that travel to the camp in the sun over long distances. It is a pleasure to watch these villagers eat to their hearts' content. More than 50 thousand people consume meals at the camp. They are served food with love and urged to take more.
Spiritual Aspect –

Spirituality is simple and straightforward devotion without any expectations. It is love for the God. Dr. Aniruddha D. Joshi (Aniruddha Bapu) who has transformed the lives of local villagers is loved by them immensely. Even though they have never personally met Bapu, their overwhelming love for him is clearly visible at the camp.
This year the Kolhapur Medical and Healthcare Camp will be held on 4th and 5th of February, 2018.