If one desires to make his life accomplished, he has to perform Shreeyantra Poojan.  The Shreeyantra, blessed by Sadguru's blessing is highly rewarding and beneficial for devotees.  Shreeyantra means, the home of "Lord" which is also the residence of Goddess Lalita.  Ancient Sages understood the importance of Shreevidya.  In order to withstand the forces of nature, humans needs medium which was in form of various Mantras and Yantras. One of these Yantras' is this, "Shreeyantra."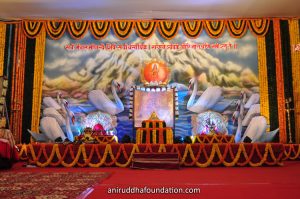 It is only the Shree Aniruddha Upasana Foundation that performs, poojan of Goddess Laxmi (the satisfied and satisfying Goddess) in the month of Ashwin on the day of Vadya Trayodashi..The programme begins with a methodical and ceremonial poojan (worship) of this Shreeyantra and the idol of Goddess Laxmi blessed by Sadguru Bapu Himself.  Consecration (Abhishek) is performed on this Shreeyantra with chanting of various hymns (mantras).  On this day, All the visiting devotees can perform the consecration (Abhishek) of water on Shreeyantra. Thousands of devotees avail this facility by praying to the Goddess Laxmi.  The prayer says "Oh Mother , whatever prosperity, blessing that you would give me, please give me the wisdom to use it only for holy acts in my life."
At the same time, an orchestra of Devotees keeps chanting Dattamala Mantra.  This chanting makes, the atmosphere at the venue highly pleasant and sacred.  Sadguru Bapu has described in detail the story about this in "Shree Matruvatslyavindanam"  Anyone who's devotion in flinching towards his Guru gets all the prosperity from Goddess Dhanalaxmi.  Without the devotion of Shree Guru, the Shree Beej doesnt get it needed momentum.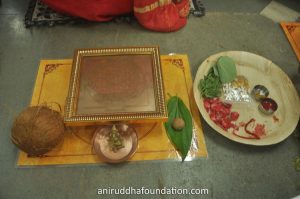 During the celebrations and festivities  Goddess Laxmi's Aarti is performed after every one hour. One gets an opportunity to hold the Aarti plate in his hand and perform this aarti of Goddess Laxmi.  This further creates positive vibrations in the environment . Devotees' eyes are soaked in tears of happiness while they  perform Her (their mother's) aarti. Devotee also experience divine bliss during the aarti which activates their eight aesthetic senses. Witnessing this incident is an extremely enthralling experience.
In the night, the havan culminates in presence of Sadguru Bapu.  During this time, all those present there, experience sacred and pure bliss.  This helps the attending devotees to focus their minds and also make atmosphere full of purity and bliss. Sadguru's presence at the venue further induces vibrant enthusiasm and euphoria.
Finally the celebrations culminate with Mahaarti which is the most favorite part of the devotees. Forgetting themselves everyone immerses himself into the Mahaarti which is orchestrated in the midst of claps, Taal and Mrudang.  Everyone leaves for their home with happiness in mind and with the readiness to welcome the beginning of festival of Diwali.
Sadguru definitely turns the darkness of past to brightness of future in everyone's life  But before that one must perform Dhanalaxmi poojan because "Shree" beej is the seed of hard work and without hard work, one cannot get the blessings of Goddess Laxmi.  If one wants to be blessed by Goddess Laxmi, then one need to invoke her and pray to her.  One has to perform the Aarti by working hard and offer the communion (naivaidya) of Maryadapalan (Restraint).