NEED: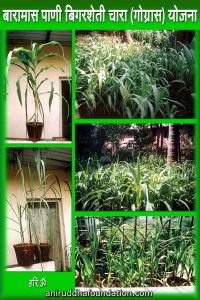 CONCEPT AND VISION:
Can the pillar of the Indian economy be driven to helplessness like this? His fellow citizens in the urban areas, who enjoy a round-the-clock supply of water, can be made aware of their responsibility and even the possibility that they can, living in their cities, save the cattle and reassure the farmer of their vital help because they owe it to him. They owe every morsel of food they eat, to the farmer and his cattle.
ACTIVITY:
All that we in the cities have to do is sow maize, wheat or rice grains in a bowl. The grains grow very well and fast in the balcony or in the yard or even on the window sill.
On many Upasana Centre mass plantation in public spaces is also performed.
When these saplings grow to a height of two and a half feet the devotees and volunteers of the Foundation, bring them to the Foundation (at Shree Harigurugram – the New English School Bandra East) on Thursdays.
The Foundation collects these saplings and distributes it as fodder to the needy farmers.
Truck loads of this fodder are then transported to villages that suffer from famines or droughts.
Feeding the cattle and restoring the livelihood of the farmer is in fact acknowledging and appreciating the hard labor that the farmer puts in for us along with his mute animal friends (cattle).