In Maharashtra for instance, the annual need is as large as 7.5 lac units of blood. The incidence of road and rail accidents, the instances of Thalysaemia, Anemia, blood cancer or even the instances of surgical procedures demand a reserve and sometimes a supply stock of blood.
SIGNIFICANCE AS PER SHREEMADPURUSHARTHA GRANTHARAJ:
In the 'Anandasadhana', the third volume of the Shreemadpurushartha Grantharaj, Sadguru Shree Aniruddha Bapu illustrates the importance of donating blood. He says that the Almighty loves nine different drops which includes the drops of blood donated by one Shraddhavan for another Shraddhavan.
OVERVIEW: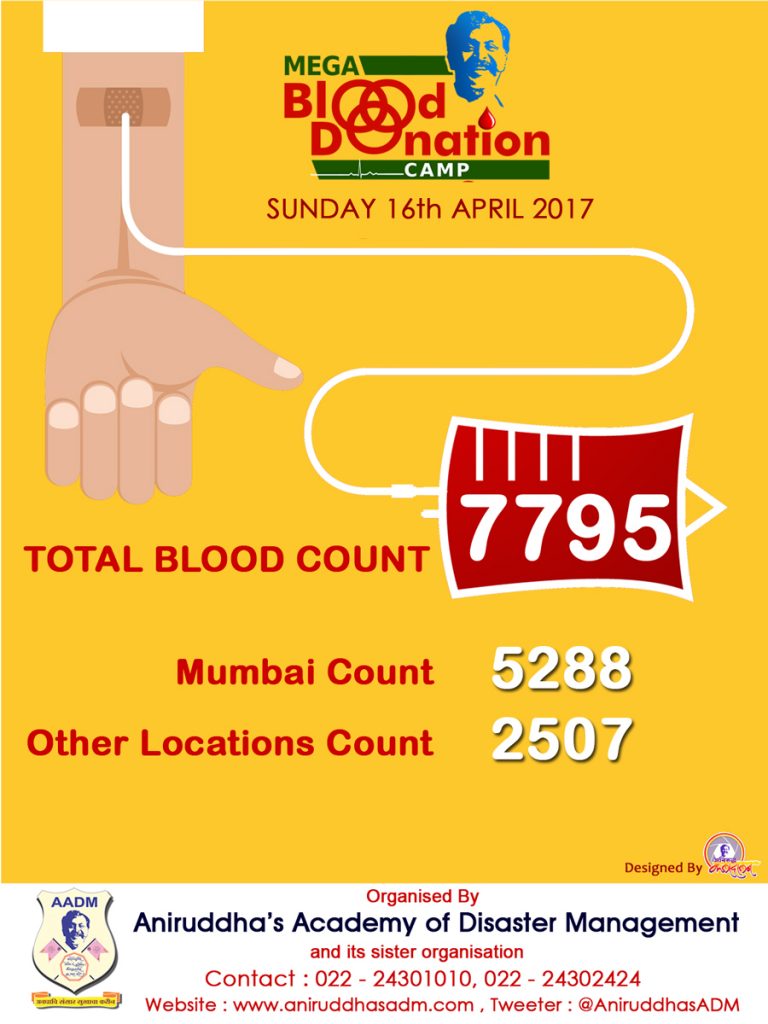 Since the year 1999, the Sadguru Shree Aniruddha Upasana Foundation has been organizing a mega camp for blood donation consistently every year in the month of April and has as of today, given more than 1 lac units of blood.
To help our donors few doctors and paramedics from Foundation's Medical Wing are always there for the whole day along with the doctors and paramedics from the participating hospitals and blood banks. In case if willing-donors get rejected on medical grounds we arrange for them to perform 'Charkha Seva' which in itself is 'donation of efforts'.
The beauty of it all is that this is an entirely selfless donation and the donors do not so much as accept the donors' card in return for this gift. They give blood purely in recognition of  their responsibility as fellow human beings; endorsing the fact that selfless giving is giving from the heart.
Blood Donation Camp Overview Infographic
LIST OF BLOOD BANK PARTICIPATED IN 2017 MEGA BLOOD DONATION CAMP
| | |
| --- | --- |
| 1 | Anviksha Blood Bank Ghatkopar |
| 2 | Arpan blood Bank Kalyan |
| 3 | Ayush Blood Bank (Nagpur) |
| 4 | Bhabha Hospital Bandra |
| 5 | Blood Line ( Thane ) |
| 6 | Bombay Hospital |
| 7 | Cama & Albless Hospital |
| 8 | Central Hospital Ulhasnagar |
| 9 | Cooper Hospital |
| 10 | D Y Patil Hospital |
| 11 | Dr.Babasaheb Ambedkar Muncipal Hospital Kandivali |
| 12 | ESIC Model Hospital Andheri |
| 14 | Hinduja Hospital |
| 15 | Holy Spirit Hospital ,Andheri ( E ) |
| 16 | J.J Hospital (Byculla) |
| 17 | J.J. Mahanagar Blood Bank |
| 18 | Jaslok Hospital |
| 19 | KEM Hospital |
| 20 | Kokilaben Hospital Andheri |
| 21 | Life Line,Nagpur |
| 22 | Mahatma Gandhi Blood Bank |
| 23 | Parsee Gen. Hospital |
| 24 | Rajawadi Hospital |
| 25 | Red Cross Blood Bank |
| 26 | Saifee Hospital |
| 27 | Sion Hospital |
| 28 | St. George's Hospital |
| 29 | Tata Hospital |
| 30 | Thane Civil Hospital |
| 31 | V.N.Desai Blood Bank |
| 32 | Wadia Hospital |