als giving vitality. The gift of blood is justifiably the gift of life and so truly very precious. And when the prevailing circumstances raise the need for this vital element endeavours to satisfy the need or make blood available become a call of the day.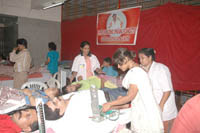 In Maharashtra for instance, the annual need is as large as 7.5 lac units of blood. The incidence of road and rail accidents, the instances of Thalysaemia, Anemia, blood cancer or even the instances of surgical procedures demand a reserve and sometimes a supply stock of blood.
SHREEMADPURUSHARTHA GRANTHARAJ SAYS: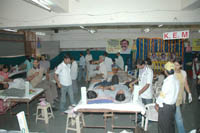 In the 'Anandasadhana', the third volume of the Shreemadpurushartha Grantharaj, Sadguru Shree Aniruddha Bapu illustrates the importance of donating blood. He says that the Almighty loves nine different drops which includes the drops of blood donated by one Shraddhavan for another Shraddhavan.
OVERVIEW:

The year 2001 saw blood donation camps being organized at Upasana centres in Mumbai and soon centres all over Maharashtra followed suit.
The units collected are handed over to 27 hospitals.
The beauty of it all is that this is an entirely selfless donation and the donors do not so much as accept the donors' card in return for this gift. They give blood purely in recognition of  their responsibility as fellow human beings; endorsing the fact that selfless giving is giving from the heart.
[powr-rss-feed label="Enter a Label"]
#BloodDonation Camp organised by https://t.co/fTrmIuLRLC's #Shrivardhan centre. 34 Blood units collected pic.twitter.com/1MvsIMHnr4

— Add Meaning to Life (@CompassionACSR) March 7, 2017