In the year 1996, Sadguru Aniruddha Bapu started the Ram Navami Utsav. Subsequently in the year 1997 the Shree Ashwatha Maruti Poojan was performed at Sadguru Niwas, Shree Gurukul, Juinagar and is held every year since then.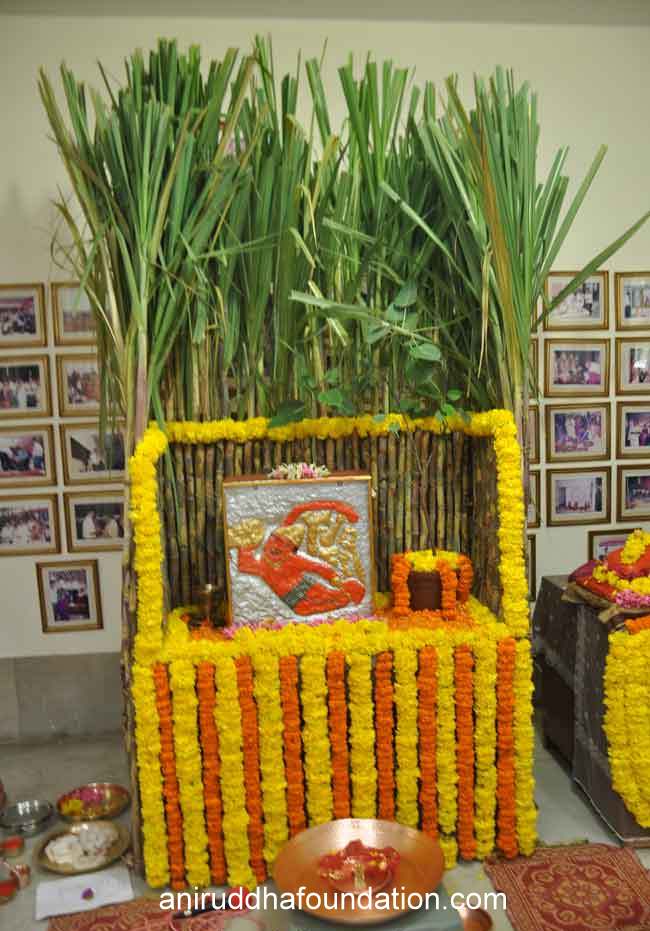 Sadguru Bapu says, "Every step of each individual on the path of Bhakti is guided by Hanumanji. Everyone is held by their finger by Hanumanji as he guides us on the path of devotion. Hence devotion and poojan of Hanumanji is extremely important.
Saint Tulsidasji writes in Hanuman Chalisa -"Nase Rog Hare ab Pida, Jo Sumere Hanumat Bal Beera". It means, anyone who recites Hanumanji's name with devotion, gets free and relieved from all his sorrows, pain, problems.
Hanumanji is the Protector of shraddhavans, as well as a devotee of Shree Ram. Therefore, it is important to have Mahapran Hanumanji in our lives and Shree Ashwatha Maruti Poojan is one such golden opportunity to do so.
Poojan Rituals and Darshan:
Shree Ashwattha Maruti Poojan is performed on every Saturday of Shravan month with recitations of mantra and shlokas. There is a Hanumanji idol which is sculpted by Sadguru Bapu himself. A branch of Peepal (sacred fig) tree is placed behind the idol as a representation of the Ashwatha tree.
A beautiful metal statue of Hanumanji is kept in a large copper plate just in front of the sculpted idol.
Anjanamata is the mother of Hanumanji. Poojan of Dhuni Mata that represents Anjanamata, kept in front of Hanumanji idol is performed.
One group of Prapataks continually recite the Hanuman Chalisa.
Poojan:
At the beginning, the poojan is performed of the branch of the Ashwatha (Peepal) tree because which has special significance. Its branches point downwards but roots point upwards. It signifies God's relation with the cosmos.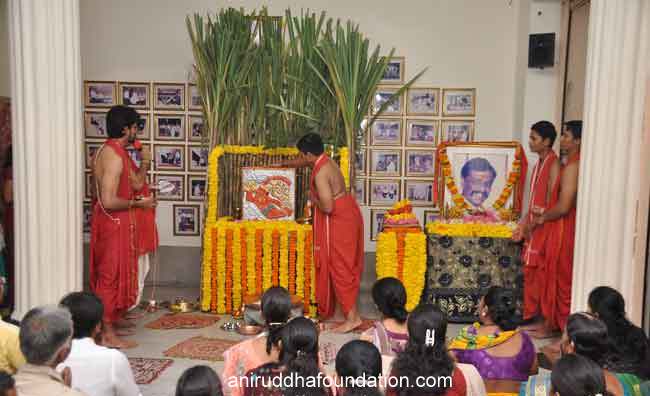 Recitation of following mantras is done during the Poojan followed by offering Prasadam. Shree Hanuman Poojan is performed with reciting Shree Panchmukhhanuman kavacah and Sankat Mochan Hanuman Kavach followed by "Om Shree Ramdutaya Hanumantya Mahapranya Mahabalaya Namo Namah'. Later Sindoor is applied to Hanumanji's idol and layha (puffed rice) are offered. Abhishek (consecration) with milk is performed on idol sculpted by Sadguru Bapu and also on the idol placed in the copper plate.  Every Shraddhavan gets an opportunity to apply sindoor to the sculpted idol. The poojan ends with recitation of "Bhimroopi Maharudra" hymn.
Dhunimata (sacred fire) poojan is also performed while offering lahya, camphor, samidha (twigs of holy trees) and essence sticks in the sacred fire pit. Haldi (turmeric powder) and Kumkum is applied to Dhunimata. After the poojan, at night the sacred fire is doused.
Devotees believe Ashwatha Maruti Poojan has many benefits –
Hanumanji provides source of energy and skills to devotees to correct and improve their mistakes.
Path to wipe out sins and overcome any distress
Physical and mental strength to live happy life
Effects of "Sade Satti" are nullified, as Shani dev is always submissive to Hanumanji
Any ill effects of planetary forces is curtailed by Hanumanji
Curtailing fear and anger