IMPORTANCE
'ASHWATHA' means the Fig Tree. In the Indian Culture, the Fig tree is known as very sacred (holy) tree and holy upasana performed under this 'Ashwatha' tree is very Precious.
Mainly, in the case of a period of Sadesati i.e. seven & half years of difficult calamities, this Ashwatha Maruti Upasana is very fruitful, and at the same time, this Upasana is useful to reduce our sharp fate endurance, sufferings and develope our life.
Saint Shri Tulsidasji says,
"Nase Rog Hare Sub Peera
Japat Nirantar Hanumat Beera"
(The one who chants the name of Hanuman continuously and whole heartedly gets free from all his pain and sufferings.)
Shree Hanumant Upasana is very much fruitful for all the human beings to avoid the daily mistakes and sins in our life, increase the devotion and to become a strong person.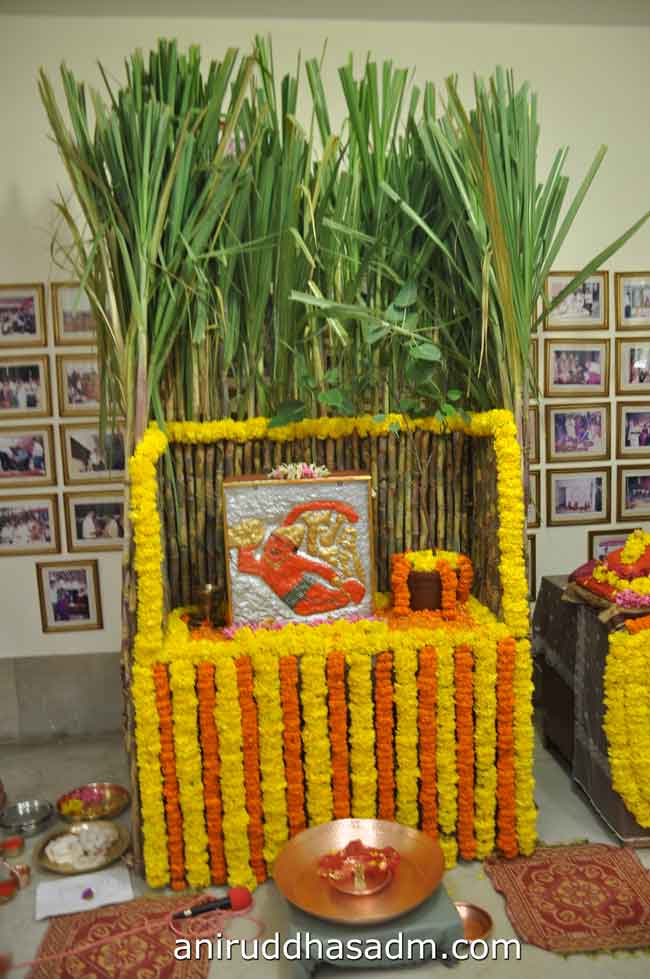 ASHWATTHA MARUTI UPASANA AT GURUKUL JUINAGAR:
Shree Hanumant Upasana is performed on every Saturday in the month of Shravan at Gurukul, Juinagar.
The idol/statue of Lord Hanuman sculpted by Sadguru Shree Aniruddha himself is worshipped on all these days. This statue is made from one single stone. At the time of Poojan, this statue is worshipped with Red Lead i.e. Shendur.
SHRIMAT ASHWATHA MARUTI POOJAN AND DARSHAN BENEFITS: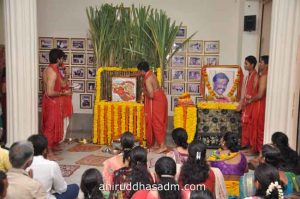 'Shree Hanumat Yog Shakti & Yukti' i.e. Spiritual Strength and Ideas is useful for rectification of the mistakes of the devotees.
The upasana is useful to get the relief from sufferings and sin.
The Upasana will give mental and physical strength to become happy in our future life.
The devotee, who is sincerely taking Darshan, will reduce the effect and strength of anger and fear which is always occupies our life.
SHREE ASHWATHA MARUTI POOJAN:
Fig tree is kept behind the statue of Lord Shree Hanumant. The five metalled statue given by Sadguru Shree Anirudha Bapu is placed in front of Lord Shree Hanumanta's statue.
Then, Ashwatha Poojan is done by chanting :
"Om ashwathaya namaha" 21 times
"Om urdhava mukhaya namaha" 21 times
"Om vanaspataye namaha" 21 times
After this Ram Raksha, Hanuman Chalisa and Shree Aniruddha Chalisa are chanted and this marks the completion of the upasana.