'Ramarasayan' is not just a biography of Rama but it is a code of conduct to lead life with spirit, vitality and positive energy. Rasayan means quintessence and it is like a medication that constantly revitalises human life.
Selflessly serving Shri Rama, the Supreme Spirit, is the higher order in every human being and this represents the true spirit of Ramarasayan. Sant Ramdas has clearly said that Rama never neglects his devotees. Staying close to the spirit of Shri Rama can be achieved in our lives through Sant Ramdas' Ramrasayan. And this spirit is enlivened within us through Shri Anirudha's composition of Shri Ramarasayan.
Shri Rama's righteous conduct is the heart of this holy book.  Fundamental principles of achieving them are explained in this book. "Sanctity as the measure" – this is the key foundation to the path of model behavior. Those who do not adhere to this principle may not be eligible to follow such a path. This and many such fundamental principles have been introduced in this holy book.
The holy book gives us an understanding about how various characters of Ramayana represent the various facets of our lives. Ravana represents a bad destiny, separation and an evil being, that creates emotions like fear within us.  Vibhishan represents someone who is virtuous, and though being in evil company, his character is refined due to Hanuman's good counsel. A higher being represents someone who is equidistant from Lanka and Ayodhya. Such a higher being stays away from both good and bad virtues but he longs for Shri Rama and therefore, to a certain extent belongs to the virtuous category.(Mishra-chakra)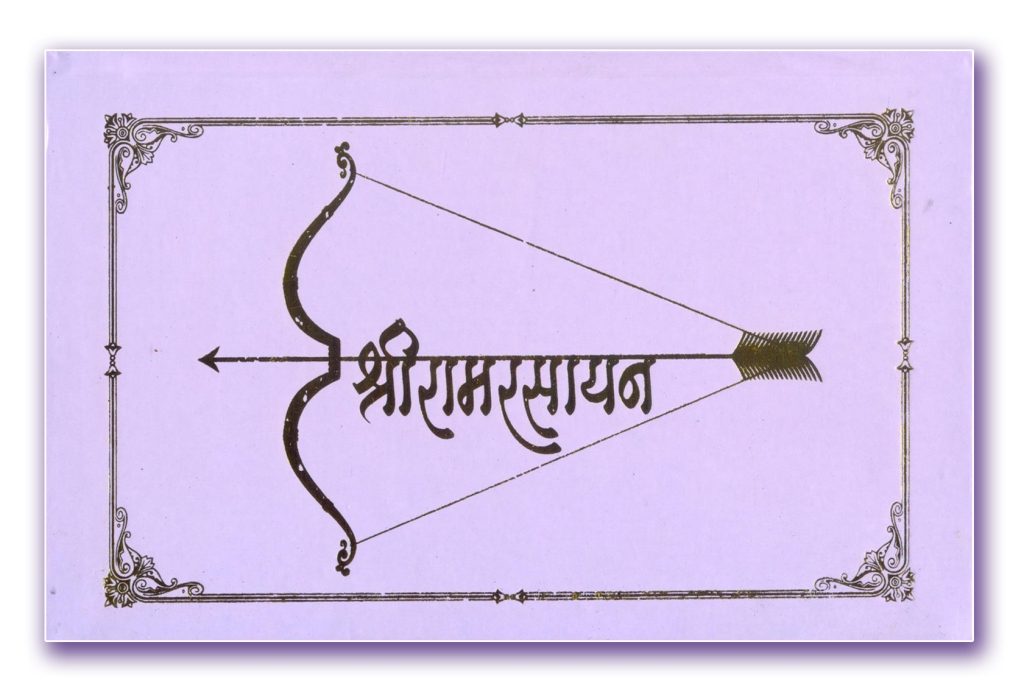 Thus every living soul is a Virtuous Vibhishan (good traits) who routinely reprimands the vice-ridden Ravana (bad traits) for his mistakes. At appropriate times Shri Rama (good conduct) helps Vibhishana and rewards him with his friendship and grants him the Kingdom of Lanka and thereby takes him fromMishra-Chakra to Vishuddha-Chakra.
Description of many such incidents is accompained by symbolic signals. For example, when Dasharatha decides to coronate Shri Rama, the holy book describes Manthara's jealousy and deception in the following manner –
"Shri Rama or his mother Kausalya never hurt or harmed Manthara, yet Manthara continued to hate them.  It is the evil minded beings who always hate and detest virtuous souls – there is no logical or illogical reason for the same. Such conflict between opposite tendencies arises naturally. The unavoidable conflict between the good and the bad is always started by the evil minded. Ill-famed Manthara represents the ultimate form of skepticism and negativity present in human beings. Kaikeyi represents the tendency to stay away from nobility."
This holy book has also placed special emphasis on the various aspects of devotion. Incidents of Ram-Bharat meet, Ram-Shabari meet are full of religious emotions. We realise the meaning of unconditional devotion, when we see Lakshman, who is doing all his best to support Rama from evil, pouring his anger and fury over Manthara and Kaikeyi who are responsible for Rama's exile.
On reading Rama's affectionate response to Shabari's trust and patience, we wonder if this is the same warrior Rama. Rama, like a diamond, with all his facets, has been exquisitely unravelled in this holy book.
This 'Ramarasayan' brings Ram-Rajya in our lives by killing Ravana, our villainous destiny. The holy book proclaims the famous Aniruddha tenet – "Rama will put up a fight, and Lord Dattaguru will support.  I am the ardent believer of Rama and I am confident Ravana will be killed". This tenet guides me towards my path of becoming  a superior being. We can definitely bring the Ram-Rajya in our lives by reading, remembering as well as drawing new meanings and morals from the holy book 'Ramarasayan'
"Sins committed by a man prior to his rebirth and terrible fate bestowed upon him due to his mistakes and misdeeds in the present birth makes him sad and fearful. Ravan is the creator of painful fate and fear.  A vice ridden soul is the element of Ravan in a being. Ego is the breath of Ravan and six vices like lust, anger, temptation etc. form the essence of Ravan's mind. The acts of Ravan means violations at all levels, like abduction of Seeta, which represents deprivation of peace, contentment and pleasure from man's life. We are superior beings of Rama. We are confident that in this battle between Ram and Ravan, Ram will emerge victorious. It is a forgone fact that followers of Rama will demolish the vices and bad fate from their lives and set up a Ram-Rajya around them."
Trust us. Shri ramrasayan guarantees all the above.