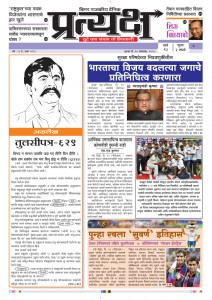 Pratyaksha Daily Newspaper
 Pratyaksha
literally means "which does not require reasoning and speculations".
One which eliminates all ill-reasoning and ignorance is Pratyaksha.
Therefore the name of this daily newspaper is very apt as Pratyaksha is indeed such a newspaper. The first issue of Daily Pratyaksha was published by Lotus Publications Pvt. Ltd. on 15th December, 2005, the day of Shree Datta Jayanti. Daily Pratyaksha introduces itself as a non-political daily.
Pratyaksha dedicatedly carries important news related to international geopolitics. Pratyaksha does not carry any sensational allegations and gossips but contains high level reality based articles on spirituality, awareness of history and facts. The most important series of articles published was the "Third World War" authored by Dr. Aniruddha D. Joshi.
After this, based on 'Sunderkand' written by Tulsidasji in Ramcharitramanas, Dr. Aniruddha D. Joshi i.e. Shree Aniruddha Bapu guided the readers on how to develop oneself in all the fields of their lives through his series of editorials – 'Tulsipatra'; .
Apart from geopolitics and spirituality Pratyaksha also features news and articles on general medicine, finance, money matters & stock markets, pollution & environment, flora and fauna, Shree Saisatcharita book, famous and great personalities and organizations, etc.
In addition a daily Jaap, prayer, spot the differences in two pictures, etc are also published which hold interest of a wide range of readers from small children to the adults.
Also, readers are provided platform to write through which readers can contribute their articles and opinions.
"Newscast Pratykasha" is a website which publishes select articles and news from Daily Pratyaksha in Hindi and English.
Useful and informative articles on Mahatma Gandhiji, Dr Nikola Tesla, Netaji Subhash, Rashtriya Swayamsevak Sangh, information technology, researchers and scientists have been published by Pratyaksha.
We realise through this that the Pratyaksha is not a mere daily newspaper but is a valuable medium which aims to gradually transforms the society and through its simple means explains the familial, social, moral and national values of life to its readers. Pratyaksha is not just a daily newspaper but an awareness generating daily which cautions the readers about the future times. Sadguru Bapu conveys his message to his shraddhavan friends through Pratyaksha and it will continue to be so. Hence in the coming times Pratyaksha undoubtedly will do its duty to provide support to shraddhavans.