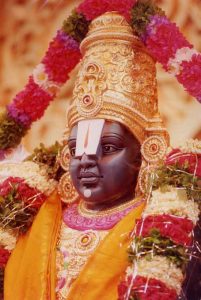 Our beloved Sadguru Shree Aniruddha   got the same upasana done from  devotees   between 7th may 2000 to 14th may 2000.
As soon as the SHREE VYANKATESH SAPTAKOTI JAAP was announced thousands of devotees eagerly participated in the preparations. A seven feet idol of Shree Vyanktesha was specially designed for the occasion. Whilst the idol was being created the seven chakras (saptachakra) were installed in the idol, prior to that 49 devotees had chanted various mantras for each chakra. Similarly 7 devotees had chanted a specific mantra 10 million times for every chakra before the installation.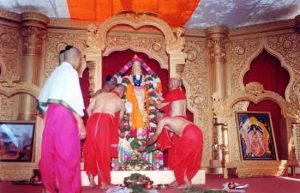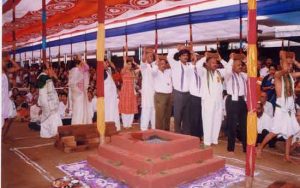 At the paapmochan kund every devotee carried a ishtika(brick) on their head while chanting, " govinda govinda jai vyankatesh gopala" and a prayer from within "O my dearest god I have committed many mistakes/sins till date but I pray that henceforth please help me in committing fewer mistakes in my life" . This ishtika was made from the holy water and soil of pushkarni teerth, paapmochan sarovaar and padmasarovaar. Every devotee could participate as many times as he wanted as the event was totally free of cost.
The mahapushpaam haar (a specific garland) offered everyday was so beautiful that words fall short to even describe it.
On the first and fifth day 1008 fruits, second and sixth day 1008 ladoos, third and seventh day ladoos made of puffed rice, fourth and eighth day 9 quintals of curd rice was offered as mahabhog. The following mantra was chanted while offering the mahabhog "Ramaya raamnaaya vyankatesaya mangalam, sarva loknivasaya shree nivasaya  mangalam." The mahabhog was then distributed to orphanages and old age homes.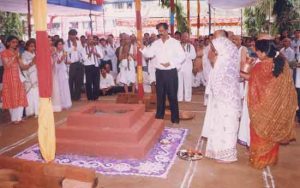 The entire utsav was carried in a very sacred and pious atmosphere. Every devotee responded to it with enthusiasm. Sadguru Shree Aniruddha gave an opportunity to all devotees to make amends for their mistakes and purify them from their sins. The aarti's composed with so much love for Shree Vyankatesha have left their indelible impression. Every devotee through this utsav learnt a very important thing –one is to avoid whatever Sadguru disliked and secondly offer Him sheer love with unflinching faith and total surrender.