AIM AND MEANINGS:
The underlying meaning of Aniruddha's Universal Bank of Ramnaam is remembrance of God and His glories and graces in such a way, so that it leads all the devotees to the path of happiness and devotion in their lives.
INCEPTION:
On 18th August 2005, Sadguru Shree Aniruddha Bapu on the auspicious day of Thursday discourse founded Aniruddha's Universal Bank of Ramnaam at Shree Harigurugram.
ORGANIZATIONAL STRUCTURE:
The Managing Director of this Bank will be the Sadya PIPA. Similarly the Trustee of the Bank will be the existing trustee from Shree Aniruddha Upasana Foundation.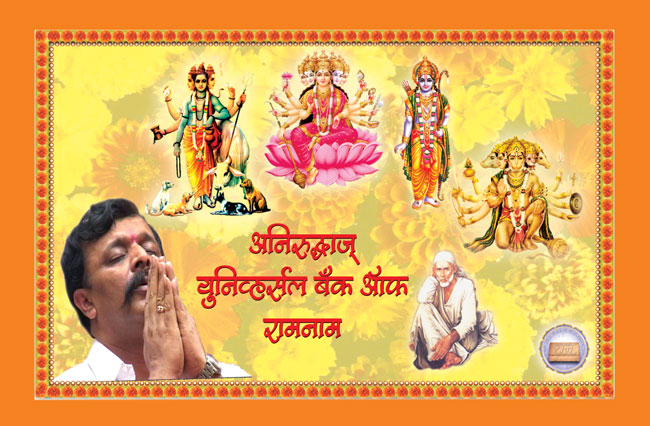 THE RAAMNAAM BOOK:
Aniruddha's Universal Bank of Ramnaam implies a notebook which gives the devotees an opportunity to recollect the sacred name of God. Every page of the book has Lord Hanumanta's image watermarked in the background, on which the devotees get the golden opportunity to write various names of God.
MEMBERSHIP:
To become a member of Aniruddha's Universal Bank of Ramnaam, an individual should complete and deposit at least one book of Ramnaam written by him at the Bank. Each devotee may on special occasions like birthday, marriage etc, of our relatives and dear ones we can write and devote Ramnaam book for them and deposit it at the Bank in their name. The writing of this Book protects us and also the ones to whom we dedicate them from difficulties and problems. Sadguru deposits 50% benefit in the account to those who write the Ramnaam book and another 50% is given to the person to whom the book is dedicated.
IMPORTANCE:
In short, while writing Ramnaam notebook we get connected with the divine name of the Lord which we chant while writing it. This is the biggest benefit of writing the Ramnaam books. It is advisable that every year, each member of the Bank should atleast deposit 18 notebooks. If any member deposits 150 notebooks within 5 years from the date of opening his account then he/ she will be designated as a lifelong member of the Bank