During this discourse, he said, "Ramrajya is achieved when the situation becomes like it was for the residents of Ayodhya, when the social arrangement becomes likewise. Bringing Ramrajya in 2025 is my dream, my goal and my pledge too."
Accordingly, Sadguru Aniruddha Bapu announced various projects and actions to be taken on individual as well as social level.
Projects undertaken as part of Ramrajya discourse–
From Ramrajya's point of view, Sadguru Aniruddha Bapu announced the following projects-
1)  Aniruddha's Institute of language and studies.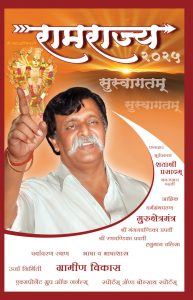 2) Aniruddha's Institute of Grameen Vikas (AIGV).
3) The Exponent Group of Journals Series.
The Exponent Group of Journals for Teachers.

Aniruddha's Institute of Alternative Energy Resources.
4) Aniruddha's Laboratory for Pollution Control and Environmental Protection.
5) Aniruddha's Institute of Sports and Bonsai Sports.
6) Shree Chandika Exaltation Army.
Along with this, Bapu also introduced the 'Prapatti' (a specific form of puja to be done on a given day or days) for men as well as women. This Prapatti makes every man and woman a courageous soldier at the household as well as on a spiritual level.
On a personal level, Bapu said that one should at least try to spare 24 minutes out of the 24 hours of the day and devote them for upasana or prayers. He also  mentioned a few things such as water therapy, gargling with salt water in the morning, eating Shatakshi Prasadam, eating curry leaves etc. which should be done individually. These help in making oneself strong at a physical as well as a spiritual level and become residents of the Ramrajya.