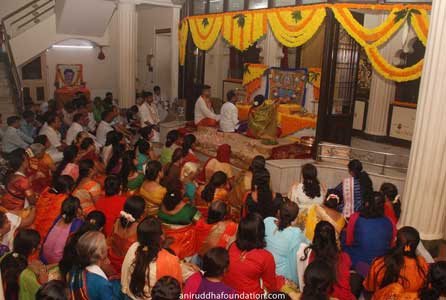 Shree Lalita Panchami Utsav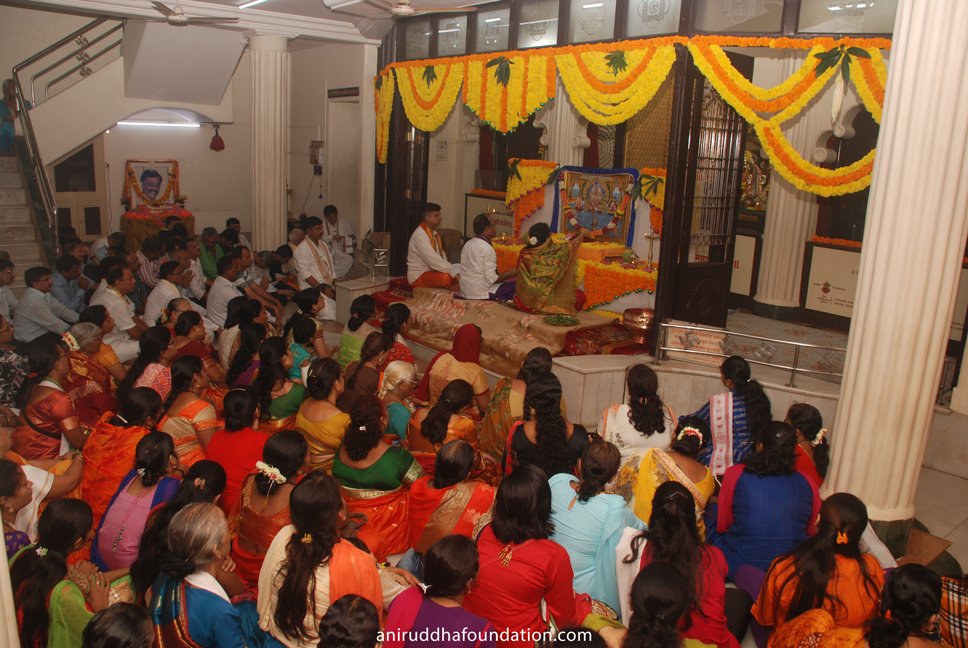 The occasion of Ashwin Shuddha Panchami is also celebrated as Lalita Panchami. A tale appears in the 27th chapter of the grantha of 'Matruvatsalyavindanam', authored by Sadguru Shree Aniruddha. It narrates, how Adimata Mahishasurmardini Herself manifests on the battlefield amidst Shree Ram's army to slay Durgam, the demon obstructing the purpose of the Ram avatar which is that of destroying Ravan. She slaughtered Durgam, the demon who had appeared in the form of a raven, with the Parashu (her weapon akin a battle-axe). It occurred on the day of Ashwin Shuddha Panchami. When Adimata Mahishasurmardini defeated the demon-god Durgam, the raven-figure monster she summoned her beloved daughter Alhadini in the form of 'Leelagrahi' or 'Lalita'. It was to ensure a recount of her leela (divine play) of the entire episode as also to timely deliver the ensuing proceedings of the war between Ram and Ravan, to Janaki. Adimata Mahishasurmardini thus disappeared as soon as Lalita initiated her mission.
Sadguru Shree Aniruddha has described the glory of the Lalita Panchami as follows, "We always live in the reign of oblivion. We forget the very existence of the Parmeshwar. The Maya (the illusion creating energy) can endear us towards the Parmeshwar just as easily as she can delude us. She constantly keeps his memory afresh (jagrut) in our life. We, therefore, pray to Mother Janaki on the occasion of Lalita Panchami, 'O Mother! You are the saviour of the whole world. You are the one who bestows her grace and fulfils our wishes. Please grace me, and grant me smriti (a strong memory) at least in the slightest. I will utilise it with righteousness.' This implies Mother Sita or Janaki is herself the original form of the smriti (the memory) of the Parmeshwar. Thus, we perform the upasana of the divine smriti on the very occasion of Lalita Panchami.
Since the year 1999, Shree Aniruddha Upasana Foundation under the guidance of Sadguru Shree Aniruddha celebrates the Lalita Panchami Utsav at the Gurukul, Juinagar. The celebration takes place from 8 o'clock in the morning till 8 in the evening. The original form of Adimata Mahishasurmardini in her original abode, which is the Manidweep, is the form she assumes as Lalitambika. On the occasion, Shraddhavan couples perform the Shree Lalitambika poojan at  Gurukul, Juinagar. Shraddhavans, thus, participate in large numbers in the Utsav with utmost devotion.