Dassera Utsav
According to the Indian culture, the tenth day of the month of Ashvin is celebrated as Vijayadashmi or Dassera. The nine days that precede this day are the 'navaratri'. In the times of the Treta yug, it was during this very period that Shreeram fought a fierce war with Ravan and by the grace of the Aadimata Mahishasurmardini, Shreeram was victorious. It was in this period again that the reign of Ram was established in Lanka and Bibheeshan was crowned the ruler of this region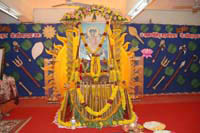 It was on the day of Vijayadashmi that Shreeram returned to Ayodhya after the completion of His exile of fourteen years. This very victory of Shreeram over Ravan now symbolic of the victory of the good over the evil or that of virtue over vice is what we celebrate in today's times on the day of Dassera. It is also customary to exchange the leaves of the 'Apte' tree, symbolic of gold.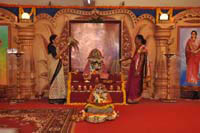 If one desires to make his life accomplished, he has to perform Shreeyantra Poojan.  The Shreeyantra, blessed by Sadguru's blessing is highly rewarding and beneficial for devotees.  Shreeyantra means, the home of "Lord" which is also the residence of Goddess Lalita.  Ancient Sages understood the importance of Shreevidya.  In order to withstand the forces of nature, humans needs medium which was in form of various Mantras and Yantras. One of these Yantras' is this, "Shreeyantra."
Holi Pournima Utsav
According to the story, in 1917 Hemadpantji had a vision in the morning. Baba appeared to him in his dream in the form of a Sanyasi, and told him that He would be coming to his place for meals that day. When he woke up from his dream, he did not see Sai or the Sanyasi. But when he began to recollect the dream, he remembered each and every word uttered by the Sanyasi. This was on the auspicious day of Holi Pournima!
Hemadpant's association with Baba was for seven years. And even though he was quite close to Baba, he had never expected that Baba would come to his house for meals. However, he had full faith on Baba's words. So he informed his wife to cook extra food as he was expecting an additional guest.
Hemadpant was waiting eagerly as he knew Baba would keep HIS word even if it was a vision.Sainath Tasbir from sainivas
It was noon time when two Muslim youth came with a package wrapped in newspaper. Hemadpant opened the package and was overwhelmed by Baba's leelas. Tears ran unchecked as he held a beautiful image (Tasbeer) of Baba. From this day onwards Holi Pournima Utsav was started to celebrate Baba's arrival at Sai Niwas in form of a Tasbeer. The tradition has been followed for generations in Hemadpant's family. Now Holi Pournima, Hemadpant and Sai Niwas have become synonymous terms among devotees.
---
Maghi Ganpati Janmostav
Every year Shri Aniruddha Upasana Foundation, Bhartiya Bhasha Sangam & Shri Aniruddha House of Friends jointly organizes Shree Maghi Ganeshotsav festival.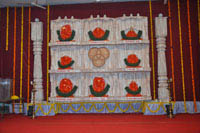 Shree Aniruddha Upasana Foundation has been celebrating this Utsav since the year 2009. The name 'Guru' has names Ganapati, Vanhi (Agni) & Vishnu embedded in it in collective form and hence collective Upasana of Shree Asthavinayak is performed along with Brahmnaspati only after "Gurusthanam" was established and empowered. Hence Shri Aniruddha Upasana Foundation began organizing and celebrating Shri Maghi Ganeshotsav only after the completion of one year of establishment and empowerment of Shree Gurukshetram was done (Shree Aniruddha Gurukshetram was established in year 2007)
---
Sacchidanand Utsav
The auspicious "Sacchidananda Utsav" is celebrated on the second Saturday of the month of "Margashirsha" (according to marathi calendar) and is performed for two days or five days consecutively according to individual preference.
During Sacchidanand Utsav we use the sacred paduka's of our Sadguru for pujan which are prepared from the paper pulp of pious Ramnam notebooks written by the devotees.
---
Shree Aniruddha Pournima
The Aniruddha Pournima is the day of birth of Sadguru Shree Aniruddha – The One to whom millions address their faith. Sadguru Shree Aniruddha Bapu was born on 'Tripurari Pournima', 18th November, 1956. The day of the 'Tripurari Pournima' is indeed an auspicious day.
The 'Shree Aniruddha Upasana Foundation' celebrates the 'Aniruddha Pournima', in an atmosphere of great enthusiasm and loving devotion. Sadguru Shree Aniruddha spends the entire day among the bhaktas.
---
Shree Ram Navami
Lord Ram was born on Chaitra Navmi. Ram means Happiness, Ram means Synergy, Ram also means Restraint and Ram means a Role Model. Since 1996, every year, our Foundation celebrates Ramnavmi with much happiness, enthusiasm and in an environment that is full of devotion.
---
Shree Dattajayanti
Shraddhavans all over consider Dattajayanti as a very auspicious occasion and a day of utmost purity. This day is celebrated on the Full Moon day in the month of 'Margashirsha' as per the Hindu calendar. Also, the day marks the birth of the firstborn Supra-ocular child of Adimata Chandika (The Supreme Goddess), Digambar-Dattatreya, in the form of a human incarnation, as Shree Guru Dattatreya (from a materialistic point of view).
---
Shree Ashwath Maruthi Poojan
ASHWATHA' means the Fig Tree. In the Indian Culture, the Fig tree is known as very sacred (holy) tree and holy upasana performed under this 'Ashwatha' tree is very Precious.
Mainly, in the case of a period of Sadesati i.e. seven & half years of difficult calamities, this Ashwatha Maruti Upasana is very fruitful, and at the same time, this Upasana is useful to reduce our sharp fate endurance, sufferings and develope our life.
Saint Shri Tulsidasji says,
"Nase Rog Hare Sub Peera
Japat Nirantar Hanumat Beera"
(The one who chants the name of Hanuman continuously and whole heartedly gets free from all his pain and sufferings.) Shree Hanumant Upasana is very much fruitful for all the human beings to avoid the daily mistakes and sins in our life, increase the devotion and to become a strong person.
---