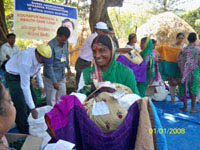 Generally Medical camps are organized for one day. These camps are organized for local villagers who reside in the remote villages. These camps which are held year after year provide only basic medical facilities to these villagers and sustain them only for a few days. But the medical camps which are organized under the skillful guidance and supervision of Sadguru Shri Aniruddha Bapu are based on detailed scientific research which is done keeping in mind the population of the villages. 'Prevention is better than Cure is the main essence and credo of this camp.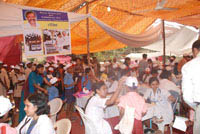 In this eighth year of the camp, a change for the better has been observed amongst the villages and the villagers who are availing benefits of the various facilities provided in the Camp.
SUCCESS OF THE KOLHAPUR MEDICAL CAMP:
The changes which have been observed by the doctors are as the following
Decrease in health related problems amongst villagers.
The villagers have understood the importance of hygiene and cleanliness and accordingly have started living in neat and tidy manner.
Decrease in the number of leprosy patients.
Decrease in spread of contagious diseases.
Diseases that are borne from contaminated water e.g. jaundice, malaria had completely vanished.
Proportion of prolonged illnesses has considerably reduced.
The number of villagers attending the camp has considerably increased. But inversely there has been a decline in the number of villagers been identified as patients.
Gynecologists happily noticed and mentioned that the needed awareness about having a small family has been created amongst the villagers and many women had opted for family planning operation after they had two children.
The conclusions from the organization of these Camps for last eight years are extremely constructive and astonishing.
        EARLIER CAMPS

        THIS YEAR'S CAMP

Children were untidy and unclean
Less (abysmal) attendance in school
Hemoglobin count was measly 4-5%
More than 50% children suffering from
50% of children were affecte with skin diseases
Severe Dental problems.
Severe stomach related ailments.
Matted hair, louse in hair were observed
Superstitious society.

Children are neat, tidy and clean
Attendance at school was observed to be 90%-100%
Hemoglobin count was 10-12%
less skin diseases
The proportion of skin diseases was hardly observed
Negligible dental problems.
Negligible stomach related ailments problem
No matting of hair or louse problem was observed
Rational and devotional society.
EXPERIENCE OF CHILDREN:
A Common feedback given by many children is as follows:
"We now go to school. We wear new clothes, caps and pair of sandals and also play cricket and football in school."
Earlier, many of these children who expressed their views were not attending school. Only after the distribution of basic necessary things like Uniforms, sweaters to protect them from the cold, Candles and matchboxes for them to study, Slippers to help protect their feet, health tonics to improve their physical health are given by the foundation in this camp, the same students who were not attending school due to non availability of the above material have now started attending school regularly and are building their lives. Not only their educational problems but also the health related problems are keenly looked after in this medical camp. The changes observed at social and personal level that are caused by the medical camp have surprised and astonished everyone.
When this camp was started many girls were unable to comb their hair due to matted hair and louse. This year the same girl-students have neatly combed their hair; few girls have put flowers in their hairs too.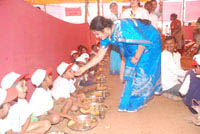 CAMP ACTIVITIES DETAILS:
Day 1 of the Camp – Distribution of Hygiene Materials in Nearby Villages
On the very first day of the Camp distribution of the basic necessities and medical aid under Sadguru Shri Aniruddha's 'old is Gold' (Juney te Soney) scheme covered under 13 Points Programme. This year basic necessities and hygiene material was provided to 5860 families spanning across 68 villages. The chart of all the villages as well as each and every individual of each house, who were attending the Camp, was already prepared by the volunteers from Kolhapur. The chart had the details of number of gents, ladies, boys, girls in the family along with their respective ages. According to the chart, clothes of the respective age group were already packed in bags and tags were attached to them which denoted the name of the family members. The clothes included shirts, trousers for men, sarees and salwar kameez for ladies and also clothes for young children according to age groups. Similarly quilts, sweaters, household utensils, toys for children., Various hygiene materials like water purification liquid (to nullify the impurities in water), Gamabenzin lotion (medicine for anti lice and itch), hair comb, nail cutter, soap, toothpowder, washing powder, etc were also provided in plenty per family. Ladies who wear nine yard sarees were given new nine yard saree and also bangles. The joy on the faces of these innocent and poor villagers knew no bounds. Moreover their bliss was further maximized by the fact that all these things were sent by their beloved Shree Aniruddha who for some villagers is their Sadguru but at the same time is a father figure for the children and a son for the elderlies.
Day 2 of the Camp – Medical Camp
Even though the previous day was extremely hectic and hard work filled, volunteers had reported at the camp site by 8:00 in the morning. There was no exhaustion or tiredness on their faces. Rather they were all geared up and were cheerfully waiting for the start of the camp. To their blissful surprise they were greeted by Param Poojya Nandai and Param Poojya Suchitdada right at the entrance gate of the camp.
Second day of camp (medical camp) was the actual day of the medical camp. Here villagers were provided with free health checkups. Thousands of the villagers arrived at the camp site from nearby villages to take the advantage of this golden opportunity. Their check-ups were done by trained doctors who were assisted by the volunteers of the Foundation.
SPECIAL FACILITIES FOR TRANSPORTATION:
From this year the biggest addition in the camp was the provision of the facility of transportation provided to school children and villagers so that they all could benefit from the Camp. A fleet of 25 trucks, 78 tempos and 10 Sumo Jeeps a total of 80 vehicles ferried all the villagers in 240 rounds in a single day.
GREAT ACHIEVEMENTS: OR HISTORIC RECORD:
This year the Foundation had shortlisted 127 schools for participating in Camp. From all these schools complete details of 9697 students' were collected and kept ready by the volunteers. Two new schools joined the camp along with their all students on their own. This happened for the first time in the history of the Camp at Kolhapur.
NEW IMPLEMENTATIONS:
This time in the Camp some new initiatives were implemented for the children
Problems faced by these children were understood by these volunteers with help of their teachers and accordingly charts were prepared to record them.(Problems like Health problem, and feedback regarding distribution material like candles, matchboxes, uniforms etc were collected which helped the volunteers while arranging the materials for them)
Fleet of vehicles was arranged for ferrying children to and fro from their school to the Camp.
A separate waiting room, distribution area, Annapurna area (dining area), medical checkup area and medicine distribution area was maintained for children. This majorly reduced their waiting time.
CARE TAKING:
As soon as the children reached the camp they were provided with caps and glucose biscuits. The Volunteers were continuously providing drinking water to them.
Every student underwent preliminary health checkup. Every student was given Calcium and multivitamin tonics namely Proto Honey and Proto Orange Syrup and De-worming tablets. Further they were provided the medicines as per their respective diagnosis.
ESSENTIAL THINGS GIVEN BY FOUNDATION:
After checkup the children were sent to the distribution area. Here all the students were provided with two sets of their respective school uniforms (printed as per the colour scheme of their respective school), slippers (as per their feet size), Candles and matchboxes, sweaters, and packets of dry fruits. Further, every school was provided with sports material viz., cricket kit, rings, skipping rope, footballs and rubber balls to encourage students to play outdoor sports.
ANNAPURNAPRASADAM
80,000 villagers from 281 villages took benefit of Mahaprasad served under Annapurnaprasadam programme. Here every person was provided with sumptuous, wholesome and delicious meal of Spiced Rice (Masale-bhat), Mix Vegetables, Spicy Lentil Soup (Dal /Amti), Pickles, and Jalebi (An Indian traditional sweet). Villagers had waited in serpentine queue from four o'clock in the morning to take advantage of this feast.
OUR SUCCESS:
"It was a great pleasure to come here. We feel contented", this was the common feeling echoed by all the villagers. Most of the volunteers had tears in their eyes when the villagers asked them "You do such selfless service for us, who will serve you?" The reality is that the volunteers who participate in Kolhapur Medical Camp never think that they are doing any favor to the villagers by serving them. Instead, the volunteers feel contended that they got an opportunity to serve the needy, to do the devotional service by participating in this camp. This is not just a service, but it is a 'Devotional Service'. The volunteers only expect that these brothers and sisters of their's should not feel that the volunteers have obligated them by serving them.
SADGURU SHREE ANIRUDDHA'S UNCONDITIONAL LOVE:
With his unconditional love toward each and everyone, Sadguru Shree Aniruddha Bapu planned and launched this medical Camp for the neglected classes. With a determined resolution and the divine blessings, the activity which started from grassroots has today bludgeoned into one of the biggest held medical camp in the history of mankind.