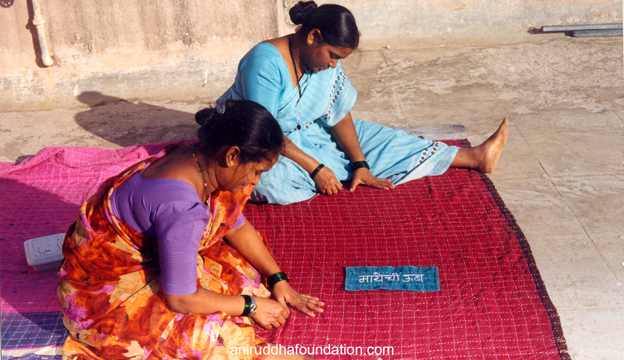 The quilt stitched out of mother's or grandmother's saree is not just an ordinary quilt, because the warmth one receives from it is – Mayechi Ubb (warmth of love). In our country, however, many poor families remain deprived of such warmth. Since there is nothing available to cover the body in the chilling winters, the days in such season are usually spent in the cold. Thus, Sadguru Shree Aniruddha initiated the 'Mayechi Ubb' Project. Under this project, the volunteers stitch or weave quilts from old sarees or bedsheets, which are later distributed among the needy.
Both, male and female Shraddhavan volunteers have imparted training for the purpose. They are trained to make quilts out of old sarees and bedsheets. The stitches of the quilt are purposefully made very small and delicate to prevent the earrings and anklets of the babies from getting stuck in them as well as these are made light-weighted so that pregnant women too can wash them. All the four sides of the quilt are stitched to be closed in such a way that the insects, earthworms and snakelets cannot penetrate through them, even in the tribal forest areas.
The feature of the quilt-
There is a difference between the quilts sold in the market and those handmade by Shraddhavans for they weave this selflessly, without any expectations, out of sheer love for their Sadguru. Moreover, Shraddhavans chant and recite God's name while making them. This connects the seva with bhakti and Shraddhavans also attain the satisfaction of making these quilts.
Another important factor is that the blouse pieces offered to Goddess Mahishasurmardini (Mothi Aai) and the uparna's offered to Shree Dattaguru at Shree Aniruddha Gurukshetram, are also used to prepare quilts. Thus, it is said that the needy who receives as well as Shraddhavans who make it, both receive love and blessings of Mother Mahishasurmardini, Anasuya Mata and Dattaguru through these quilts.
Quilt Distribution-
The quilts are distributed to the needy and the poor during the Medical Camps held every year at Kolhapur and Virar. During the July 26, 2005, Mumbai floods, these quilts were distributed to many needy families.
So far, about 84,000 quilts have been distributed among the needy in Dhule, Kolhapur, Ratnagiri and Navi Mumbai, since 2002. On the occasion of the birthday of Sadguru Shree Aniruddha or other special or religious occasions, such quilts stitched by Shraddhavans are donated and offered to the needy.
मराठी
हिंदी