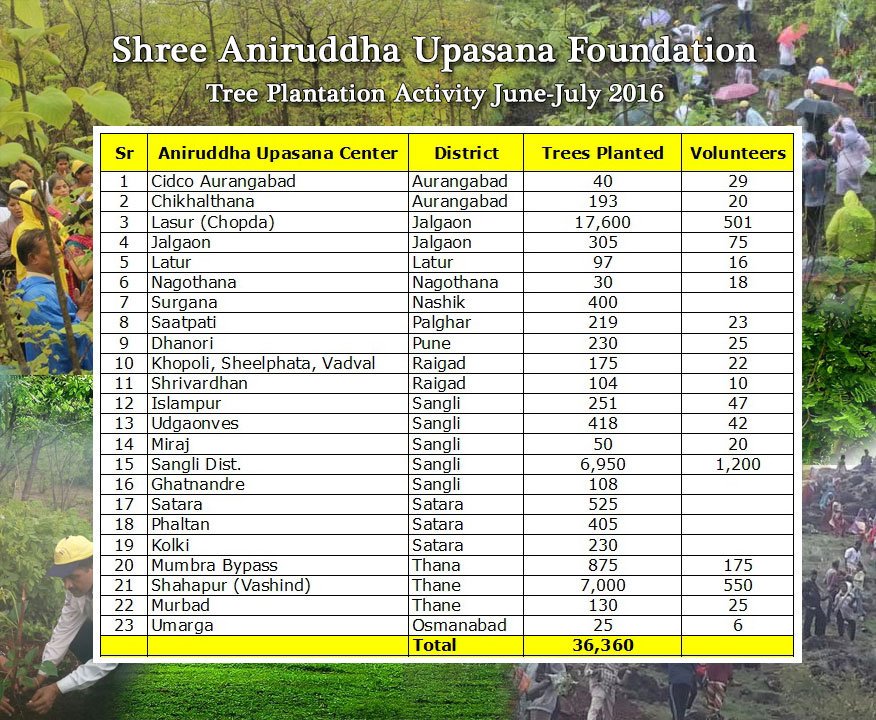 Tree Plantation Drive in Maharashtra
Environmental degradation is posing a great threat to human survival. With a view to lend a helping hand in restoring ecological balance, Shree Aniruddha Upasana Foundation alongwith Aniruddha's Academy of Disaster Management, its sister organization, has been proactively organizing Tree Plantation drives in many places of Maharashtra.
Apart from enhancing the beauty of the environment, Trees help in combating the climate change by reducing Global warming. Trees also absorb odors and pollutant gases (nitrogen oxides, ammonia, sulfur dioxide and ozone) and provides Oxygen too. It is said that in one year, an acre of mature trees can provide enough oxygen to 18 people.
With this objective, more than 2800 volunteers from 23 Centres of Shree Aniruddha Upasana Foundation planted 36,360 trees during the month of June-July 2016. More such plantations would be done with the help of volunteers in the next month too.
#TreePlantation by @AniruddhasADM & @CompassionACSR. More than 2800 volunteers from 23 Centres planted 36,360 #trees pic.twitter.com/xbyfCWM1Ys

— Samir Dattopadhye (@samirsinh189) July 6, 2016
#TreePlantation Day :5500 trees planted by 1200 #Volunteers of @AniruddhasAdm at Dandoba Dongar in #Sangli District pic.twitter.com/a2uWDVLf1o

— Add Meaning to Life (@CompassionACSR) July 2, 2016
#TreePlantation Day :7000 trees planted by 500 DMVs of @AniruddhasAdm at #Shahapur forest region near Vashind. pic.twitter.com/BDSue9Am1d

— Add Meaning to Life (@CompassionACSR) July 2, 2016
#TreePlantation Day : #volunteers of https://t.co/fTrmIv3tac Ghatnandre- #Sangli centre planted 108 trees pic.twitter.com/mIX8uZOpix

— Add Meaning to Life (@CompassionACSR) July 3, 2016
#TreePlantation: https://t.co/fTrmIuLRLC volunteers from #Jalgaon ,Dhule, Nandurbar District planted 17,300 #trees pic.twitter.com/jvhOJzch9n

— Add Meaning to Life (@CompassionACSR) July 4, 2016
#TreePlantation by @AniruddhasADM Volunteers of #Kalwa, Kharegaon and #Thane Upasana centres at Mumbra mountain. pic.twitter.com/AoOSzCKJoM

— Add Meaning to Life (@CompassionACSR) July 7, 2016