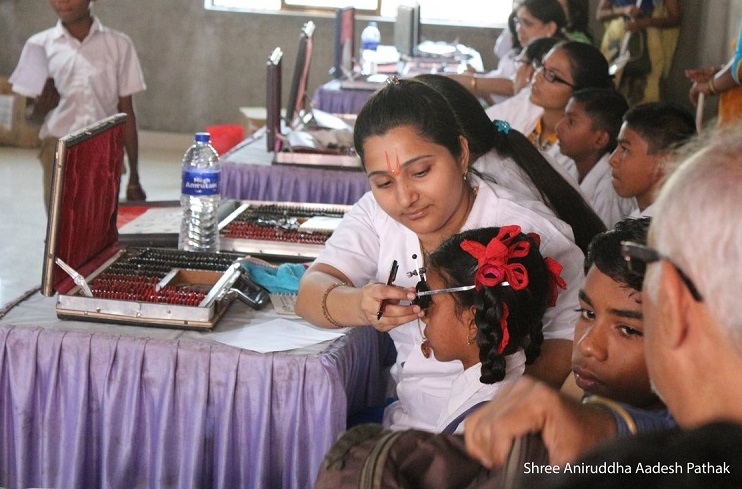 Eye Checkup and Vitamin Tablets Distribution Camp, Virar 2017
Eye Checkup and Vitamin distribution camp
Shree Aniruddha Aadesh Pathak (sister organization of Shree Aniruddha Upasana Foundation) had organized an Eye Checkup and Vitamin distribution camp for school children at Chandip, Virar on 28th February 2017. Overall 14 schools with around 1500 students participated in this camp.
Participation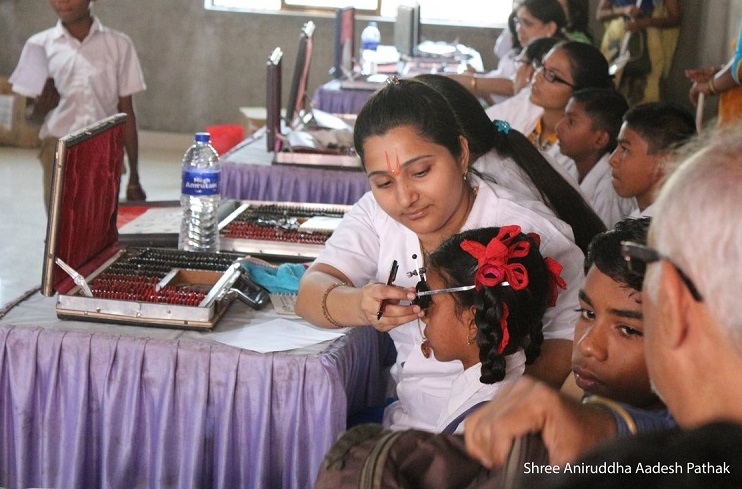 A team of 14 doctors, 13 paramedical staff and 31 Optometrists were involved in this activity. Apart from this, 219 volunteers from 13 Upasana Centres were also present to assist them in this activity.
The Camp which was conducted at Bapuji Baba Jadhav High School, Chandip  commenced at around 10 am and continued till 3 pm. Students were also offered a nutritious and a hearty meal during the camp.
It is said that students determine the future of any nation. A nation can progress if its youth is sincere and educated. Shree Aniruddha Upasana Foundation and its sister organizations provide a helping hand to school going children, especially the needy ones by organising such Medical and Healthcare camps for their better upbringing.
#EyeCheckup and Vitamin Tablets Distribution Camp, #Virar 2017 by @CompassionACSR. 996 children from 14 #schools benefited. pic.twitter.com/tLS6plFmCi

— Add Meaning to Life (@CompassionACSR) February 28, 2017
Annapoorna Prasadam: #Food being served to #children during EyeCheckup and Vitamin Tablets Distribution Camp at #Virar by @CompassionACSR pic.twitter.com/3BaUVX1QG8

— Add Meaning to Life (@CompassionACSR) March 2, 2017
Yet another #initiative by ShreeAniruddhaUpasanaFoundation.#Eye checkup & #Vitamin distribution camp at Virar today. pic.twitter.com/Ffk8jvH1Yw

— Add Meaning to Life (@CompassionACSR) March 12, 2016