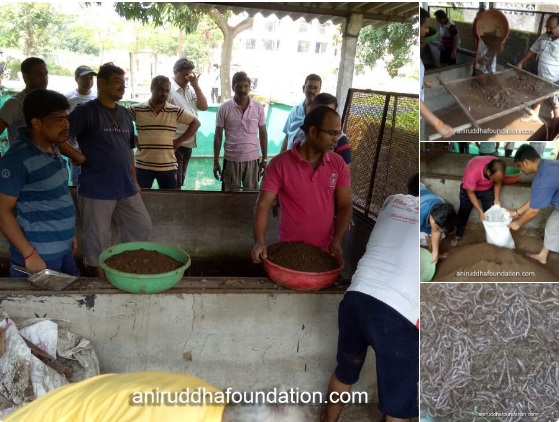 Vermiculture project: 1968 kg Organic Fertilizer collected from Mumbai
The Project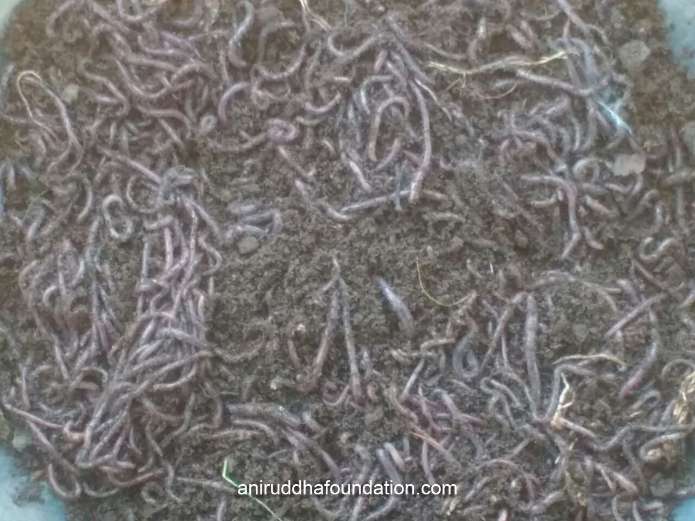 'Shree Aniruddha Upasana Foundation' along with its sister organization 'Aniruddha's Academy of Disaster Management' has included Vermiculture as one of its projects, realising the need of the hour for Solid Waste Management.
As rapid urbanization poses a great challenge to dumping disposal of garbage in the city, Vermiculture stands as a best solution to this challenge. Aniruddha's Academy of Disaster Management has envisaged an easy and cheap method at household level wherein biodegradable waste in the kitchen can easily be converted into vermicompost.
Vermiculture is a science of nurturing earthworms and using them as natural bioreactors in waste management. Earthworms are rightly called farmer's best friend as they aerate and fertilize the soil, improving its qualities. Similarly, earthworms help produce vermicompost, created by the process of composting using earthworms. Earthworms thrive on the biodegradable waste and break it down to produce a nutrient rich organic fertilizer called Vermicompost. Also, Vermiwash which is a liquid collected from the earthworm culture is very effective in use. It is used as foliar spray that can be sprayed directly on leaves as a liquid fertilizer.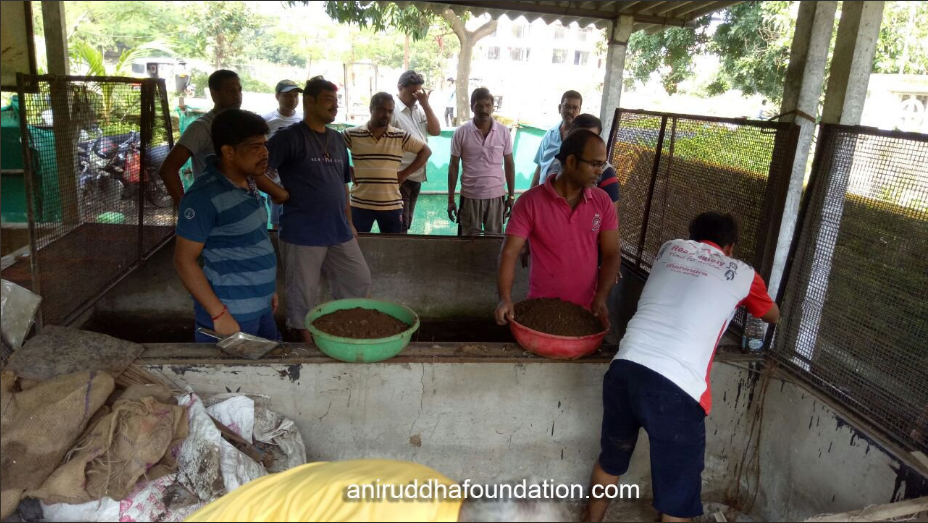 Shree Aniruddha Upasana Foundation/ AADM has imparted training on Vermiculture to Central Railways, SEBI, Naval Dockyard (Colaba), Ponchkhanawala Bankers Training Institute, DIL Ltd., Bhavan's College, IES School (Marol), Schools of BMC in all wards, Tunga International Hotel, etc. By now more than 500 tons of vermicompost has been distributed to the needy farmers free of cost. It is also used in tree plantation drives carried by Shree Aniruddha Upasana Foundation.
Vermiculture and Tree Plantation Drives are considered very distinct projects undertaken by Shree Aniruddha Upasana Foundation as they connect us with nature and help to repay the debt of our Mother Earth.
Latest Updates
At present, Upasana Kendras at Virar, Nalasopara, Kochivade have been conducting Vermiculture projects at various sites. Total Vermicompost collected in October 2017 across these 4 centres is as follows :
Nalasopara West – 68 kg
Virar East Patilwadi -550 kg
Virar West Bhatpada – 1200 kg
Kochivade – 150 kg